Dosha Balance Jahresgruppe - Online
Online stream
Starts on Saturday, 26/02/2022
Description:
Wir fließen gemeinsam gesund durchs Jahr und lernen dabei die eigenen Bedürfnisse besser verstehen.
In dieser geschlossenen Jahresgruppe erwartet dich: - Verständnis über die Doshas in entsprechenden Jahreszeiten kennen und verstehen - Grundlagenwissen über die jeweiligen Doshas: Vata, Pitta, Kapha, inkl. Agni Bestimmung. - Kräuter, Gewürze und Nahrung für die jeweiligen Doshas in den Jahreszeiten - gemeinsames Kochen zur passenden Jahreszeit - Yogaeinheiten und Entspannungsübungen entsprechend den Doshas
Voraussetzungen: Keine, aber erste Yogakenntnisse sind von Vorteil.
Termine: Kapha Dosha: 23.02.22 / 16.03.22 / 27.04. jeweils 18.30 - ca. 20/20.30 Uhr
Kochkurs Kapha Dosha: Sonntag 15.05. 10 - ca. 12 Uhr
Pitta Dosha: 22.06. / 20.07. / 17.08.22 jeweils 18.30 - ca. 20/20.30 Uhr
Kochkurs Pitta Dosha: Sonntag 18.09. 10 - ca. 12 Uhr
Vata Dosha: 19.10. / 16.11. / 07.12.22 jeweils 18.30 - ca. 20/20.30 Uhr
Kochkurs Vata Dosha: Sonntag 08.01.23 10 - ca. 12 Uhr
Ich freue mich auf dich!
Online stream
There is an online stream available for this activity. To participate, take the following steps:
This studio uses Zoom as their online streaming provider. Download the according app to your laptop, tablet or smartphone
Access to the online livestream is available 15 minutes before the start of the activity. Simply go to "My bookings" and click on "Join online stream now" to be redirected to the corresponding page
With some streaming providers (e.g. Zoom) it is possible for participants to see each other. However, it is theoretically possible to deactivate the camera function. The name you enter when entering the online meeting room is displayed to other participants. However, you can always change your name (e.g. only the initials). Please note: Individual rules for online participation may apply for each class or venue.
Teacher :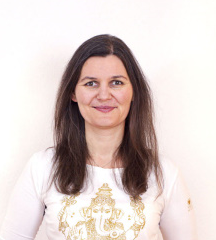 Angela
Dates:
| | | | | |
| --- | --- | --- | --- | --- |
| 1. | 26/02/2022 | 10:00 - 15:00 | Bayernstraße 72, 63863 Eschau | Angela |
| 2. | 03/04/2022 | 13:00 - 15:00 | Bayernstraße 72, 63863 Eschau | Angela |
| 3. | 15/05/2022 | 10:00 - 12:00 | Bayernstraße 72, 63863 Eschau | Angela |
| 4. | 19/06/2022 | 10:00 - 15:00 | Bayernstraße 72, 63863 Eschau | Angela |
| 5. | 21/08/2022 | 13:00 - 15:00 | Bayernstraße 72, 63863 Eschau | Angela |
| 6. | 18/09/2022 | 10:00 - 12:00 | Bayernstraße 72, 63863 Eschau | Angela |
| 7. | 09/10/2022 | 10:00 - 15:00 | Bayernstraße 72, 63863 Eschau | Angela |
| 8. | 04/12/2022 | 13:00 - 15:00 | Bayernstraße 72, 63863 Eschau | Angela |
| 9. | 08/01/2023 | 10:00 - 12:00 | Bayernstraße 72, 63863 Eschau | Angela |
* All prices including VAT