Ayurveda Gesundheitsreihe - ONLINE
Online stream
Starts on Monday, 10/10/2022
Price from 35.00 €
Description:
Ayurveda ist das Wissen vom Leben. In dieser Reihe lernst du, beginnend mit dem Grundlagen im Ayurveda viel nützliches für deinen Alltag. Alle Termine können Einzeln, oder vergünstigt als Kombiticket gebucht werden. Folgende Themen sind geplant: 10.10..22 - Ayurveda Basiswissen lernen die Doshas und ihre Wirkweise auf dich kennen und verstehen
07.11.22 - Ayurveda Alltagshelfer die Doshas zu verstehen klappt schon ganz gut? Dann bauen wir jetzt den Ayurveda bin einfachen Schritten in deinen Alltag ein.
21.11.22 - Ayurveda Kräuterkunde - Herbst die Herbstzeit ist Vata dominierend. Hier benötigen wir viele verdauungsförderliche Kräuter, die uns gut begleiten können. Darüber sprechen wir in diesem Teil.
Ich freue mich auf dich!
Online stream
There is an online stream available for this activity. To participate, take the following steps:
This studio uses Zoom as their online streaming provider. Download the according app to your laptop, tablet or smartphone
Access to the online livestream is available 15 minutes before the start of the activity. Simply go to "My bookings" and click on "Join online stream now" to be redirected to the corresponding page
With some streaming providers (e.g. Zoom) it is possible for participants to see each other. However, it is theoretically possible to deactivate the camera function. The name you enter when entering the online meeting room is displayed to other participants. However, you can always change your name (e.g. only the initials). Please note: Individual rules for online participation may apply for each class or venue.
Trainer :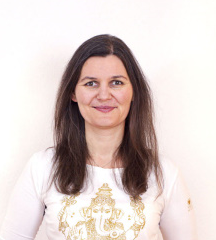 Angela (Mahadevi)
Dates:
| | | | | |
| --- | --- | --- | --- | --- |
| 1. | 10/10/2022 | 19:00 - 20:30 | Bayernstraße 72, 63863 Eschau | Angela (Mahadevi) |
| 2. | 07/11/2022 | 19:00 - 20:30 | Bayernstraße 72, 63863 Eschau | Angela (Mahadevi) |
| 3. | 21/11/2022 | 19:00 - 20:30 | Bayernstraße 72, 63863 Eschau | Angela (Mahadevi) |
* All prices including VAT