Die 7 Chakras und die 9 Zahlen (online)
Online stream
Starts on Sunday, 26/03/2023
Price 18.00 €
Description:
Es gibt 7 Chakras, aber 9 Zahlen. Das Thema Chakras ist für viele faszinierend, da es gut illustriert werden kann. Doch sind Chakras letztlich nichts Permanentes. Zahlen sind es. Ohne die 9 Zahlen gib es keine 7 Chakras. Wir erforschen die Beziehung zwischen den 7 Hauptchakras und den 9 Zahlen. Wir wollen sehen, wie sehr die Qualitäten, die den Chakras zugeschrieben werden, mit dem korrespondieren, was die Zahlen erzählen. Inwiefern deuten die Zahlen meines Geburtsdatums auf bestimmte Chakras hin und welche Praktiken sind hilfreich, um diese auszugleichen?
Vorkenntnisse nicht erforderlich.
Online stream
There is an online stream available for this activity. To participate, take the following steps:
This studio uses Zoom as their online streaming provider. Download the according app to your laptop, tablet or smartphone
Access to the online livestream is available 15 minutes before the start of the activity. Simply go to "My bookings" and click on "Join online stream now" to be redirected to the corresponding page
With some streaming providers (e.g. Zoom) it is possible for participants to see each other. However, it is theoretically possible to deactivate the camera function. The name you enter when entering the online meeting room is displayed to other participants. However, you can always change your name (e.g. only the initials). Please note: Individual rules for online participation may apply for each class or venue.
Trainer :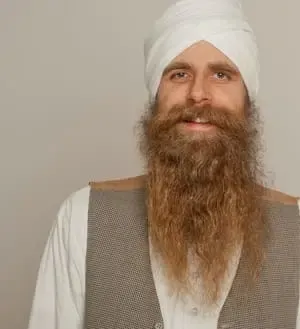 Paramjeet Singh
Gründer & Leiter von Yoga Japa Seit 2010 studiert Paramjeet Singh mit seinem spirituellen Lehrer Shiv Charan Singh die spirituelle Wissenschaft des Kundalini Yoga und Karam Kriya, die zeitlose Weisheit der Zahlen. Sein Fokus liegt dabei darauf, die eigene Spiritualität in dieser Welt authentisch zu leben. Ein volles & erfülltes Leben zu führen, das alle Aspekte des Menschseins integriert. Seine besondere Hingabe gilt dem Studium & der Praxis von Gurbani, den heiligen Hymnen & Shabds der Sikhs. Als freiberuflicher Übersetzer hat Paramjeet Singh zahlreiche Kundalini Yogabücher ins Deutsche übertragen. Als Karam Kriya Berater unterstützt er Menschen dabei, sich von ihren wiederkehrenden Geschichten & Gewohnheiten zu lösen, aus ihren Erfahrungen im Licht der Zahlen zu lernen und das Fenster ihrer Bestimmung zu öffnen. "Die Zahlen erzählen, wir lernen zu lauschen."
Dates:
| | | | | |
| --- | --- | --- | --- | --- |
| 1. | 26/03/2023 | 19:00 - 21:30 | Hönower Straße 33, 10318 Berlin | Paramjeet Singh |
* All prices including VAT