Vegan leben: Motivation, Risiken, Starthilfe ONLINE Workshop (kostenlos)
Online stream
Starts on Sunday, 22/11/2020
Description:
In diesem Workshop werden die wichtigsten Fragen zur veganen Lebensweise beantwortet:
Was bedeutet vegan?
Welche Gründe sprechen für eine vegane Ernährung und Lebensweise, welche dagegen?
Inwieweit kann eine vegane Ernährung gesund sein und welche Risiken birgt sie?
Leiden VeganerInnen an Mangelerscheinungen durch fehlende Proteine und andere Nährstoffe? Wie schnell kann ein Mangel ggf. eintreten?
Warum essen wir Schweine, aber keine Hunde?
Warum trinken wir Kuhmilch, aber keine Pferdemilch?
Warum ist Parmesan weder vegan noch vegetarisch?
Welche Ernährungsweise empfehlen die führenden Ernährungsgesellschaften?
Ist ein veganes Leben extrem, kompliziert und teuer?
Wie gelingt der Einstieg möglichst einfach, wenn ich es ausprobieren möchte?
Wo finde ich weiterführende Informationen, wenn ich das Thema weiter vertiefen möchte?
Ziel des Workshops ist die Bereitstellung grundlegender Informationen zur Thematik, betrachtet aus unterschiedlichen Perspektiven: Umwelt und Klima, Gesellschaft und Ökonomie, Ethik und Moral, Tierschutz sowie, allem voran, menschliche Gesundheit und Fitness. Am Ende des Workshops wird es Raum für Fragen, Diskussion und weiteren Austausch geben. Hierzu sind alle TeilnehmerInnen herzliche eingeladen, verbunden mit der dringenden Bitte, bei dieser hochemotionalen Thematik möglichst sachlich zu bleiben.
Der Workshop ist grundsätzlich offen für alle Interessenten, unabhängig von der eignen Ernährungsweise! Die Teilnahme am Workshop ist kostenlos.
Dauer: ca. 2 Stunden
Online stream
There is an online stream available for this activity. To participate, take the following steps:
This studio uses Zoom as their streaming provider to online stream their activities. Download the according software or app to your laptop, tablet or smartphone.
The access to the online stream is available 15 minutes before the start of the activity. You can find the link for the online stream in your online profile under "My bookings". With a click on "Join online stream now" you will be forwarded to the corresponding page and you join the activity online!
Specific streaming providers, e.g. Zoom, allow participants to see each other through the video camera. If you do not want to show yourself or the personal environment, you can deactivate the camera function or cover the camera. The name you enter when you join the online meeting room will be shown to other participants. However, you can change your name at any time (e.g. only specify the initials).
Trainer :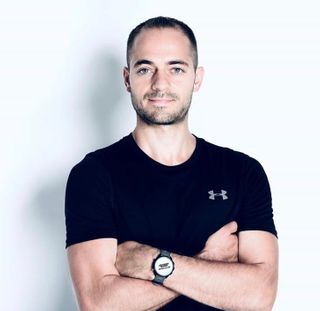 Johannes
Dates:
| | | | | |
| --- | --- | --- | --- | --- |
| 1. | 22/11/2020 | 14:00 - 16:00 | Lindenspürstraße 20, 70176 Stuttgart | Johannes |
* All prices including VAT