Vegan trainieren: optimale Ernährung in Sport und Alltag (Online-Workshop)
Online stream
Starts on Sunday, 24/01/2021
Price 39.00 €
Description:
In diesem Workshop steht die Umsetzung einer optimalen veganen Ernährungsweise im Fokus. Ziel ist es aufzuzeigen, wie eine gut geplante, rein pflanzenbasierte Vollwerternährung die Gesundheit, das allgemeine Wohlbefinden, die Leistungs- und Regenerationsfähigkeit fördern kann und wie sich eine alltagstaugliche und trainingsspezifische Ernährungspraxis erfolgreich gestalten lässt.
Die TeilnehmerInnen erwarten die folgenden Themenschwerpunkte:
Fundamentale Grundlagen der menschlichen Ernährung
Energiebilanz und Berechnung des individuellen Energiebedarfs
Überblick Makro- und Mikronährstoffe und deren natürliches Vorkommen in pflanzlicher Kost
gesundheitliche Vorteile einer veganen Ernährungsweise und potenzielle Risiken
Notwendigkeit und Überflüssigkeit von Supplementierung (Nahrungsergänzung)
sinnvolle Nahrungsaufnahme vor, während und nach sportlicher Aktivität
Umsetzung unterschiedlicher Ernährungsstrategien für unterschiedliche Zielsetzungen in der Praxis
Hilfestellung bei der Erarbeitung eines individuellen Rahmenernährungsplans
praktische Tipps zum Einkauf von Lebensmitteln, Vorbereiten von Mahlzeiten (Meal Prep) und Essen unterwegs
Dauer des Workshops: ca. 3 Stunden
Buchung:
Einzeltickets Aktion bis 31.12.2020: 29,- Euro (inkl. Mwst.) Einzeltickets regulär: 39,- Euro (inkl. Mwst.)
Online stream
There is an online stream available for this activity. To participate, take the following steps:
This studio uses Zoom as their streaming provider to online stream their activities. Download the according software or app to your laptop, tablet or smartphone.
The access to the online stream is available 15 minutes before the start of the activity. You can find the link for the online stream in your online profile under "My bookings". With a click on "Join online stream now" you will be forwarded to the corresponding page and you join the activity online!
Specific streaming providers, e.g. Zoom, allow participants to see each other through the video camera. If you do not want to show yourself or the personal environment, you can deactivate the camera function or cover the camera. The name you enter when you join the online meeting room will be shown to other participants. However, you can change your name at any time (e.g. only specify the initials).
Trainer :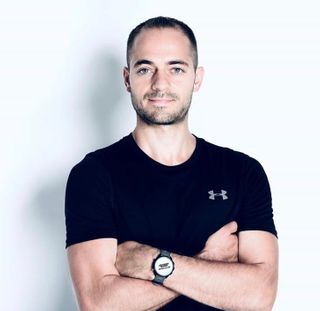 Johannes
Dates:
| | | | | |
| --- | --- | --- | --- | --- |
| 1. | 24/01/2021 | 14:00 - 17:00 | Lindenspürstraße 20, 70176 Stuttgart | Johannes |
* All prices including VAT