Online - Yoga und Meditationsabend mit Rama - Ab in die Neue Zeit
Online stream
Starts on Tuesday, 18/05/2021
Price from 25.00 €
Description:
Die Welt spielt verrückt und wir nutzen die Situation so gut wie möglich! Die Schwingung der Erde erhöht sich ins Licht. Deswegen wird Altes erschüttert und es bricht vieles weg. Unser Leben kommt in neue Bahnen. In diesem Abend lernst du deine Beobachtungsgabe zu verbessern. Du lernst Dinge, die dich belasten, loszulassen, umso mehr Leichtigkeit zu empfinden. Du stärkst dein Vertrauen in das Selbst und der höchsten kosmischen Macht, verbindest dich mit deiner Intuition und Kreativität und lernst deinen Instinkten zu folgen. So erfahren wir Heilung in einer äußerst turbulenten Zeit. Das " Neue Zeitalter" hat begonnen und führt die Menschheit auf die Reise nach Innen. Wer in den Kontakt kommt zum innewohnenden Licht des Wesens, hilft der Menschheit, dem Planeten, seiner Familie und sich selbst!
Ablauf: ab 18.30 Uhr - Yogastunde mit Rama mit anschließender Meditation. kurze Pause, danach Inspiration und Vortrag. Ende ca. 21.45 Uhr
Für den Kurs benötigst du nur: • einen ruhigen Raum ohne Störung • Yogamatte oder Teppich • stabile Internetverbindung • Computer oder Tablet (notfalls Smartphone) mit Kamera und
Ggf. läuft die Veranstaltung als Hybridabend. Anmeldung ist nur für den Onlineabend möglich!
Online stream
There is an online stream available for this activity. To participate, take the following steps:
This studio uses Zoom as their streaming provider to online stream their activities. Download the according software or app to your laptop, tablet or smartphone.
The access to the online stream is available 15 minutes before the start of the activity. You can find the link for the online stream in your online profile under "My bookings". With a click on "Join online stream now" you will be forwarded to the corresponding page and you join the activity online!
Specific streaming providers, e.g. Zoom, allow participants to see each other through the video camera. If you do not want to show yourself or the personal environment, you can deactivate the camera function or cover the camera. The name you enter when you join the online meeting room will be shown to other participants. However, you can change your name at any time (e.g. only specify the initials).
Teacher :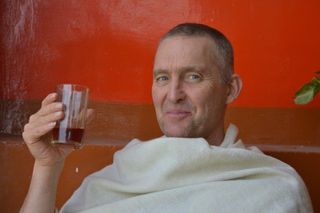 Rama
Rama ist schon Seit vielen Jahren auf dem spirituellen Weg und hat sehr viele große Yogameister aus der ganzen Welt getroffen. Im Yoga Seminarhaus in Bad Meinberg ist er einer der Hauptunterrichtenden. Durch seine langjährige eigene Praxis und Seiner Erfahrung ist er in der Lage tiefgreifende Yogastunden zu geben und die Lehren des Yogas authentisch zu vermitteln. Dies tut er mit sehr viel Humor und Hingabe.
Dates:
| | | | | |
| --- | --- | --- | --- | --- |
| 1. | 18/05/2021 | 18:30 - 21:45 | Maximilianstraße 65, 95444 Bayreuth | Rama |
* All prices including VAT