Online - Hormonyoga Kurs
Online stream
Starts on Sunday, 13/06/2021
Price 70.00 €
Description:
Lerne über 5 Wochen die Praxis von Hormonyoga kennen. Im Kurs lernst du wie du die Übungen für Dich zu Hause anwenden kannst.
Hormonyoga ist für alle Frauen gedacht, aber besonders für Frauen ab 32,die länger jung und fit bleiben wollen, auf natürliche Weise Wechseljahresbeschwerden vorbeugen und lindern, oder schwanger werden möchten.
Bei Hormonyoga handelt es sich um eine sehr energetische Yogaform, mit der wir unseren Energiekörper aufladen, harmonisieren und die Energie zu den hormonproduzierenden Drüsen lenken.
Für die Teilnahme an diesem Workshop ist Yogavorerfahrung notwendig (am besten ein Anfängerkurs)
Wer kann Hormonyoga praktizieren?
Frauen ab 32, denn da beginnt der Östrogenspiegel zu sinken
junge Frauen mit verfrühter Menopause
alle Frauen die sich keiner Hormontherapie unterziehen möchten
Frauen mit Kinderwunsch
Kontraindikationen:
bestehende Schwangerschaft
Endometriose
hormonell bedingter Brustkrebs
fortgeschrittene Osteoporose
in den ersten drei Monaten nach Bauch OP´s
akute Herzerkrankungen oder nach Herz OP´s
Der Kurs läuft als Online Kurs --- sollten wir wieder öffnen dürfen hast du die Option vor Ort mit dabei zu sein.
Der Kurs ist leider nicht von der Krankenkasse bezuschuss bar.
Online stream
There is an online stream available for this activity. To participate, take the following steps:
This studio uses Zoom as their streaming provider to online stream their activities. Download the according software or app to your laptop, tablet or smartphone.
The access to the online stream is available 15 minutes before the start of the activity. You can find the link for the online stream in your online profile under "My bookings". With a click on "Join online stream now" you will be forwarded to the corresponding page and you join the activity online!
Specific streaming providers, e.g. Zoom, allow participants to see each other through the video camera. If you do not want to show yourself or the personal environment, you can deactivate the camera function or cover the camera. The name you enter when you join the online meeting room will be shown to other participants. However, you can change your name at any time (e.g. only specify the initials).
Trainer :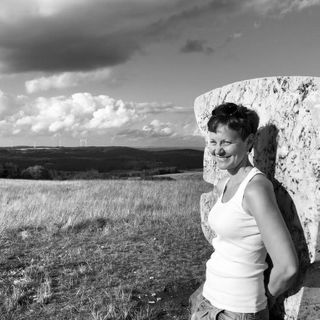 Janaki - Eva
Dates:
| | | | | |
| --- | --- | --- | --- | --- |
| 1. | 13/06/2021 | 09:00 - 10:45 | Maximilianstraße 65, 95444 Bayreuth | Janaki - Eva |
| 2. | 20/06/2021 | 09:00 - 10:45 | Maximilianstraße 65, 95444 Bayreuth | Janaki - Eva |
| 3. | 27/06/2021 | 09:00 - 10:45 | Maximilianstraße 65, 95444 Bayreuth | Janaki - Eva |
| 4. | 04/07/2021 | 09:00 - 10:45 | Maximilianstraße 65, 95444 Bayreuth | Janaki - Eva |
| 5. | 11/07/2021 | 09:00 - 10:45 | Maximilianstraße 65, 95444 Bayreuth | Janaki - Eva |
* All prices including VAT