Online Schwangerenyoga - Di 10.45 Uhr
Online stream
Starts on Tuesday, 12/10/2021
Price 104.00 €
Description:
Yoga für Schwangere Bewusst und glücklich Mutter werden! Die Schwangerschaft ist im Leben einer jeden Frau ein einzigartiges- und wundervolles Erlebnis. In dieser Zeit ist die Frau physisch und emotional besonders gefordert. Yoga bietet die Möglichkeit mit den körperlichen Veränderungen in der Schwangerschaft besser zurecht zu kommen. Du entwickelst ein positives Körpergefühl und findest einen tieferen Kontakt zu deinem heranwachsenden Baby.
In diesem Kurs erlernst und bekommst du:
Haltungsfehler zu erkennen und zu vermeiden
den Körper durch Kräftigung der Muskeln auf die Geburt vorzubereiten
Aufbau von Rückenmuskeln um Deinen Babybauch leichter zu tragen
richtiges Atmen, welches dir bei der Geburt helfen kann
Beckenbodentrainig für die Unterstützung bei der Geburt
Tief zu Entspannen um dich zu regenerieren
den eigenen Kräften zu vertrauen
Angst vor dem Neuen zu überwinden
körperliches Wohlbefinden zu steigern
Körper, Geist und Seele in Einklang zu bringen und dich auf dein Baby positiv einzustimmen
Achtung:Wird von allen gesetzlichen Krankenkassen mit bezuschusst! Eine Teilnahmebescheinigung bekommst du nach dem Kurs.
Corona Infos: Der Kurs läuft durchgehend Online. GGf. läuft er als Hybridkurs wenn Teilnehmerinnen vor Ort mitmachen dürfen. Du kannst dich auch für den vor Ort Kurs anmelden. Der Preis für vor Ort oder Onlinekurs ist gleich. Sollte wegen Corona der vor Ort Kurs nicht sattfinden können wird er für alle gestreamt.
Online stream
There is an online stream available for this activity. To participate, take the following steps:
This studio uses Zoom as their online streaming provider. Download the according app to your laptop, tablet or smartphone
Access to the online livestream is available 15 minutes before the start of the activity. Simply go to "My bookings" and click on "Join online stream now" to be redirected to the corresponding page
With some streaming providers (e.g. Zoom) it is possible for participants to see each other. However, it is theoretically possible to deactivate the camera function. The name you enter when entering the online meeting room is displayed to other participants. However, you can always change your name (e.g. only the initials). Please note: Individual rules for online participation may apply for each class or venue.
Teacher :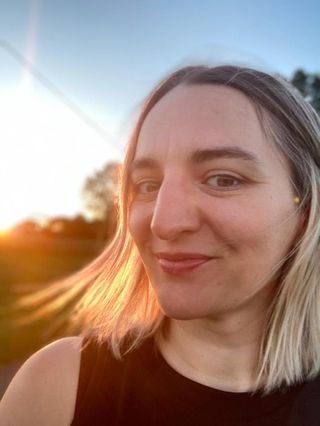 Ramani - Silvia
Durch ihre liebevolle Art und ihrem gelebtem Wissen ist sie in der Lage Menschen auf dem Weg des Yogas und Ayurvedas über ihre Grenzen hinaus zu bringen und zu neuen Erfahrungen zu führen. Yoga Unterrichtserfahrung seit mehr als 15 Jahren. Durch ständige Weiterbildungen im Bereich Yoga und Ayurveda bleiben wir immer auf dem neusten Stand. Mehr Infomationen auf www.silviagäck.de
Dates:
| | | | | |
| --- | --- | --- | --- | --- |
| 1. | 12/10/2021 | 10:45 - 12:15 | Maximilianstraße 65, 95444 Bayreuth | Ramani - Silvia |
| 2. | 19/10/2021 | 10:45 - 12:15 | Maximilianstraße 65, 95444 Bayreuth | Ramani - Silvia |
| 3. | 26/10/2021 | 10:45 - 12:15 | Maximilianstraße 65, 95444 Bayreuth | Ramani - Silvia |
| 4. | 02/11/2021 | 10:45 - 12:15 | Maximilianstraße 65, 95444 Bayreuth | Ramani - Silvia |
| 5. | 09/11/2021 | 10:45 - 12:15 | Maximilianstraße 65, 95444 Bayreuth | Ramani - Silvia |
| 6. | 16/11/2021 | 10:45 - 12:15 | Maximilianstraße 65, 95444 Bayreuth | Ramani - Silvia |
| 7. | 23/11/2021 | 10:45 - 12:15 | Maximilianstraße 65, 95444 Bayreuth | Ramani - Silvia |
| 8. | 30/11/2021 | 10:45 - 12:15 | Maximilianstraße 65, 95444 Bayreuth | Ramani - Silvia |
* All prices including VAT