Online Yoga II Kurs - Mittelstufe - Di 9 Uhr - 10x90 Min
Online stream
Starts on Tuesday, 08/11/2022
Price from 110.00 €
Description:
Online Yogakurs
Inhalt des Kurses: Hier bekommst Du Tipps wie du im Yoga weiter voranschreiten kannst
Geeignet für alle die schon einen Yoga I Kurs besucht haben oder Erfahrungen im Yoga gesammelt haben.
In diesen Stunden vertiefen wir die Yoga-Vidya Grundreihe und bauen auch Variationen mit ein. Das Wissen über Atemtechniken Tiefenentspannung und allgemeines Yogawissen wird weiter ausgebaut. Unter anderem bekommst du die Gelegenheit den Kopfstand (den Du aber nicht können oder lernen musst!) zu lernen und andere herausfordernde Übungen zu praktizieren. Wenn du den Sonnengruß, die Wechselatmung (Anuloma Viloma) und die Schnellatmung (Kapalabhati) beherrscht kannst du gleich in diesen Kurs mit Einsteigen.
Der Sonnengruß wird weiter vertieft auch mit verschiedenen Variationen und du lernst neue tiefer gehende Entspannungstechniken aus dem Yoga.
Wir nutzen die Streamingplattform Zoom um den Kurs zu übertragen.
Der Kurs läuft als Hybridkurs, d.h. es werden auch Teilnehmer*innen vor Ort sein, von denen du nichts mitbekommst.
Wenn möglich schalte beim Üben deine Kamera ein damit wir dich unterstützen können. Durch neue Technik haben wir unser Streamingangebot qualitativ verbessert. (Neue Kameras und Mikros!)
Online stream
There is an online stream available for this activity. To participate, take the following steps:
This studio uses Zoom as their online streaming provider. Download the according app to your laptop, tablet or smartphone
Access to the online livestream is available 15 minutes before the start of the activity. Simply go to "My bookings" and click on "Join online stream now" to be redirected to the corresponding page
With some streaming providers (e.g. Zoom) it is possible for participants to see each other. However, it is theoretically possible to deactivate the camera function. The name you enter when entering the online meeting room is displayed to other participants. However, you can always change your name (e.g. only the initials). Please note: Individual rules for online participation may apply for each class or venue.
Trainer :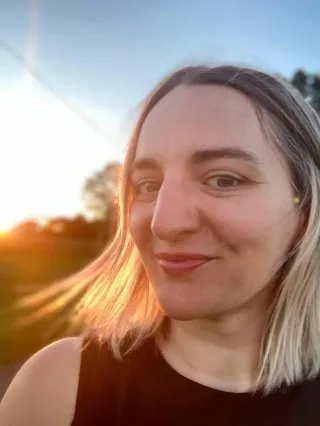 Ramani - Silvia
Durch ihre liebevolle Art und ihrem gelebtem Wissen ist sie in der Lage Menschen auf dem Weg des Yogas und Ayurvedas über ihre Grenzen hinaus zu bringen und zu neuen Erfahrungen zu führen. Yoga Unterrichtserfahrung seit mehr als 15 Jahren. Durch ständige Weiterbildungen im Bereich Yoga und Ayurveda bleiben wir immer auf dem neusten Stand. Mehr Infomationen auf www.silviagäck.de
Dates:
| | | | | |
| --- | --- | --- | --- | --- |
| 1. | 08/11/2022 | 09:00 - 10:30 | Maximilianstraße 65, 95444 Bayreuth | Ramani - Silvia |
| 2. | 15/11/2022 | 09:00 - 10:30 | Maximilianstraße 65, 95444 Bayreuth | Ramani - Silvia |
| 3. | 22/11/2022 | 09:00 - 10:30 | Maximilianstraße 65, 95444 Bayreuth | Ramani - Silvia |
| 4. | 29/11/2022 | 09:00 - 10:30 | Maximilianstraße 65, 95444 Bayreuth | Ramani - Silvia |
| 5. | 06/12/2022 | 09:00 - 10:30 | Maximilianstraße 65, 95444 Bayreuth | Ramani - Silvia |
| 6. | 13/12/2022 | 09:00 - 10:30 | Maximilianstraße 65, 95444 Bayreuth | Ramani - Silvia |
| 7. | 20/12/2022 | 09:00 - 10:30 | Maximilianstraße 65, 95444 Bayreuth | Ramani - Silvia |
| 8. | 20/12/2022 | 09:00 - 10:30 | Maximilianstraße 65, 95444 Bayreuth | Ramani - Silvia |
| 9. | 10/01/2023 | 09:00 - 10:30 | Maximilianstraße 65, 95444 Bayreuth | Ramani - Silvia |
| 10. | 17/01/2023 | 09:00 - 10:30 | Maximilianstraße 65, 95444 Bayreuth | Ramani - Silvia |
* All prices including VAT