Jetzt geht's los! Absolute-Beginner Workshop
Online stream
Starts on Saturday, 30/01/2021
Price 25.00 €
Description:
Du hast schon viel von Yoga und den positiven Auswirkungen auf Körper und Geist gehört, es aber selbst noch nie ausprobiert? Dann hast bei unserem Einsteiger Workshop die Gelegenheit alle wichtigen Grundlagen des Yoga kennenzulernen: Das mit dem Atmen, die wichtigsten Positionen, ein bisschen Yogaphilosophie – und natürlich ordentlich Entspannung.
Du brauchst keinerlei Vorkenntnisse, dieser Workshop ist speziell für Einsteiger und Wieder-Einsteiger gedacht. Was du benötigst: Eine (Yoga-) Matte und bequeme Kleidung (Hose/Legging, T-Shirt/Top, Sweatshirt/Jacke). Wenn Du noch keine Yogamatte zuhause hast, dann tut es auch ein Handtuch, eine Decke oder der Boden.
Jochen lebt und liebt Yoga seit vielen Jahren und hat große Freude daran, Menschen ein Türchen zur faszinierenden Welt des Yoga zu öffnen.
Worauf kannst du hoffen? Auf mehr Stabilität, mehr Flexibilität, mehr Ruhe und Konzentrationsfähigkeit, außerdem verbessert sich dein Schlaf.
Hinweis: Du musst NICHT beweglich sein. Yoga ist gerade für unflexible Menschen super! Wir veranstalten auch keinen Wettbewerb auf der Matte. Du kommst, um dir etwas Gutes zu tun.
Online stream
There is an online stream available for this activity. To participate, take the following steps:
This studio uses Zoom as their streaming provider to online stream their activities. Download the according software or app to your laptop, tablet or smartphone.
The access to the online stream is available 15 minutes before the start of the activity. You can find the link for the online stream in your online profile under "My bookings". With a click on "Join online stream now" you will be forwarded to the corresponding page and you join the activity online!
Specific streaming providers, e.g. Zoom, allow participants to see each other through the video camera. If you do not want to show yourself or the personal environment, you can deactivate the camera function or cover the camera. The name you enter when you join the online meeting room will be shown to other participants. However, you can change your name at any time (e.g. only specify the initials).
Teacher :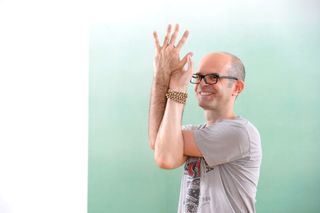 Jochen
Für einen Banker vielleicht "ungewöhnlich", entdeckte Jochen Anfang 2007 Yoga für sich. Er übte über die Jahre mit Lehrern unterschiedlicher Stilrichtungen und nahm an zahlreichen Workshops teil. Seine Liebe und Hingabe gehört dem Jivamukti Yoga und so absolvierte er schließlich 2013 das Jivamukti Teacher Training bei seinen verehrten Lehrern Yogeswari, Dr. Patrick Broome, Sharon Gannon und David Life. In seinen Jivamukti Yoga Stunden wird geschwitzt. Die Übungen sind je nach Können anspruchsvoll und herausfordernd. Wichtig ist ihm dabei, die Yogaphilosophie zu vermitteln, warum wir unseren Körper in Positionen bringen wollen, warum Yoga erfunden wurde. Auch Meditation gehört dazu. Atmen. Eine "Haltung" üben. Auf der Matte und im Leben. Gewaltlosigkeit. Wissen, warum man seinen Körper fordert. Es gibt immer eine Playlist mit modernen und inspirierenden Songs. Jochen bezieht aber auch die alten yogischen Schriften ein und spielt auf dem Harmonium indische Mantren. Das schafft die Verbindung zu uraltem Wissen, das wir uns auch heute zunutze machen können.
Dates:
| | | | | |
| --- | --- | --- | --- | --- |
| 1. | 30/01/2021 | 14:00 - 16:00 | Peterstraße 5, 90478 Nürnberg | Jochen |
* All prices including VAT