Hot Yoga Immersion ab Ende Oktober 2022
Starts on Friday, 28/10/2022
Price 50.00 €
Description:
This intensive Hot Yoga Immersion is designed to deepen your knowledge and gain specialized skills and understanding of Hot Yoga.
This Immersion is ideal for Hot Yoga enthusiasts as well as 200-hour teachers looking to specialize in this style. The Hot Yoga Immersion empowers you to dive deep into self awareness, meditative practice and gain confidence to get up and share knowledge to transform peoples lives.
All students are most welcome, this training will radically shift your practice and create a new awareness of self.
Participants with the intention to teach Hot Yoga, will need a 200h Yoga teacher training program, at least 3 years of regular Hot Yoga practice and additional mentorship hours with Jeanette or Katherine.
Embark on a life changing journey. If you have any questions please talk with us after a class or email us.
Contents
At the end of this Immersion, students will have the skills in Hot Yoga, including:
Yoga philosophy
Meditation and breathing techniques
Sequences and timings for 90 minute class
Instructions, cuing, and benefits for poses
Anatomy and physiology
Essential teaching skills for Hot Yoga
Teaching methodology
Practice teaching with personalized attention and supportive feedback
Daily schedule
on Fridays, 28.10.2022 + 04.11.2022 from 14:00 - 17:00
all the other days from 8.30 - 16.30
An example daily schedule*:
8:30- 9:00 Morning meditation & discussion
9:00-10:30 Hot Yoga (90 min class)
10:45-12:00 Asana and practice teaching
12:00-13:00 Lunch
13:00-13:30 Anatomy, physiology, philosophy
13:45-15:00 Asana and practice teach
15:00-16:30 Hot Yoga (90 min class)
*note: schedules vary by day and are subject to change
Preise
Frühbucher-Tarif bis zum 3. Oktober 2022: 590 €
Normaltarif ab dem 3. Oktober 2022: 690 €
Mit der Online-Buchung (Anzahlung von 50 €) ist dein Platz gesichert und du bekommst von uns eine Rechnung für den restlichen Betrag, der innerhalb von 14 Tagen an uns zu überweisen ist.
Falls du aus gesundheitlichen oder anderen Gründen trotz Anmeldung nicht kommen kannst, bitten wir dich selbst für einen Ersatz zu sorgen. Die Kursgebühr kann nicht erstattet werden! Danke für dein Verständnis.
Ausbildung mit Katherine und Jeanette
Alle weiteren Informationen findest du auf unserer Webseite www.yoga-moment.de
Teacher :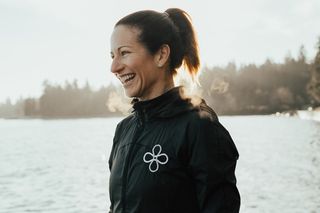 Katherine
Yoga means union, union with your mind, body and breath. To me over the years I have experienced it means to create union with your real self. Through yoga I have had the experience of connecting to my own authenticity which is freeing. Giving up the need to look good or be someone else. Yoga means acceptance of self, acceptance of life, I can show up on my mat as I am in the moment and move, breath, strengthen, and open up to life as it is and as it is not. Yoga gives me the freedom to shine my light in life, and to see the light in others it is transformative.
Dates:
| | | | | |
| --- | --- | --- | --- | --- |
| 1. | 28/10/2022 | 14:00 - 17:00 | Holtenauer Straße 70 (Eingang beim Parkplatz vom Schlemmer-Markt), 24105 Kiel | Katherine |
| 2. | 29/10/2022 | 08:30 - 16:30 | Holtenauer Straße 70 (Eingang beim Parkplatz vom Schlemmer-Markt), 24105 Kiel | Katherine |
| 3. | 30/10/2022 | 08:30 - 16:30 | Holtenauer Straße 70 (Eingang beim Parkplatz vom Schlemmer-Markt), 24105 Kiel | Katherine |
| 4. | 04/11/2022 | 14:00 - 17:00 | Holtenauer Straße 70 (Eingang beim Parkplatz vom Schlemmer-Markt), 24105 Kiel | Katherine |
| 5. | 05/11/2022 | 08:30 - 16:30 | Holtenauer Straße 70 (Eingang beim Parkplatz vom Schlemmer-Markt), 24105 Kiel | Katherine |
| 6. | 06/11/2022 | 08:30 - 16:30 | Holtenauer Straße 70 (Eingang beim Parkplatz vom Schlemmer-Markt), 24105 Kiel | Katherine |
* All prices including VAT