Menofit
Online stream
Starts on Monday, 25/10/2021
Price 59.90 €
Description:
Du befindest dich in den Wechseljahren und bist auf der Suche nach einem Training, das gelenkschonend, funktionell und kraftvoll ist?
In diesem Kurs wirst du bereits nach der ersten Trainingseinheit spüren wieviel Lebenskraft in dir steckt. Wir arbeiten an deiner Beweglichkeit, an deiner Ausdauer und an deiner Kraft. Du kannst den Kurs bequem von überall aus besuchen, wo du Wlan hast.
Du brauchst nur bequeme Kleidung, eine Matte und Wasser, sollten wir Zusatzgeräte benötigen, findest du diese sicher in deinem Haushalt.
Parallel zum Kurs gibt es eine Facebookgruppe, in der wir uns austauschen und in der Fragen und Erfahrungen zum Training besprochen werden können - auch Fragen zu meinem Buch 'Schlank und fit durch die Wechseljahre - Das Trainingsprogramm gegen Hormonchaos, Muskelabbau, Hitzewallungen und Gewichtszunahme'.
Disclaimer: Die Haftung für Personen- und Sachschäden beim 'Menofit-Onlinekurs' wird im Rahmen der gesetzlichen Möglichkeiten ausgeschlossen. Die Teilnahme am Menofit-Onlinekurs erfolgt auf eigenes Risiko. Für Unfälle, oder Schädigungen gleich welcher Art besteht keine Haftungspflicht seitens LAUFMAMALAUF-Zehlendorf/Teltow. Ich empfehle die Konsultierung des Arztes deines Vertrauens, bevor du an einem meiner Kurse oder Videos teilnimmst.
Online stream
There is an online stream available for this activity. To participate, take the following steps:
This studio uses Zoom as their online streaming provider. Download the according app to your laptop, tablet or smartphone
Access to the online livestream is available 15 minutes before the start of the activity. Simply go to "My bookings" and click on "Join online stream now" to be redirected to the corresponding page
With some streaming providers (e.g. Zoom) it is possible for participants to see each other. However, it is theoretically possible to deactivate the camera function. The name you enter when entering the online meeting room is displayed to other participants. However, you can always change your name (e.g. only the initials). Please note: Individual rules for online participation may apply for each class or venue.
Trainer :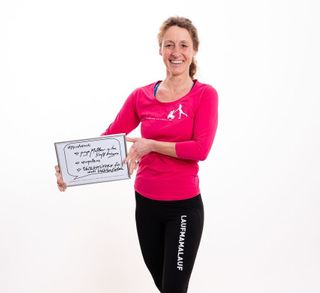 Tine
Dates:
| | | | | |
| --- | --- | --- | --- | --- |
| 1. | 25/10/2021 | 18:30 - 19:30 | Online bei dir zu hause 0, Übertragun via ZOOM | Tine |
| 2. | 01/11/2021 | 18:30 - 19:30 | Online bei dir zu hause 0, Übertragun via ZOOM | Tine |
| 3. | 08/11/2021 | 18:30 - 19:30 | Online bei dir zu hause 0, Übertragun via ZOOM | Tine |
| 4. | 15/11/2021 | 18:30 - 19:30 | Online bei dir zu hause 0, Übertragun via ZOOM | Tine |
| 5. | 22/11/2021 | 18:30 - 19:30 | Online bei dir zu hause 0, Übertragun via ZOOM | Tine |
| 6. | 29/11/2021 | 18:30 - 19:30 | Online bei dir zu hause 0, Übertragun via ZOOM | Tine |
| 7. | 06/12/2021 | 18:30 - 19:30 | Online bei dir zu hause 0, Übertragun via ZOOM | Tine |
| 8. | 13/12/2021 | 18:30 - 19:30 | Online bei dir zu hause 0, Übertragun via ZOOM | Tine |
* All prices including VAT