POLE TRICKS POWER-FLOW-FLUIDITY
Starts on Saturday, 30/07/2022
Price 64.00 €
Description:
Tatjana will teach you some of her favorite tricks & combo's. The focus is on moving graciously and flowy in and around the pole. Flexibility and strength will be important elements as well as how to create beautiful shapes with your body.
This is an INTERMEDIATE LEVEL workshop.
Trainer :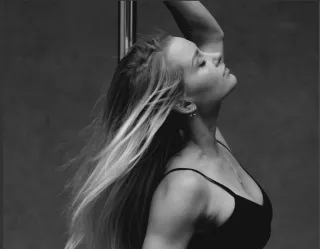 Tatjana
Dutch-born Tatjana van Onna started her pole dancing career in 2011, with a strong background in gymnastic and fitness. After participating competitively locally and abroad, she opened her own studio, the Pole Dance Factory Amsterdam in 2013. Discovering her newly found passion as a business owner, she launched her second studio in short succession in 2017. Her love for teaching, specifically Exotic Pole, Spinny Pole and Flexibility, is what drives her.
Dates:
| | | | | |
| --- | --- | --- | --- | --- |
| 1. | 30/07/2022 | 13:45 - 15:15 | Mendelssohnstraße 15B, 22761 Hamburg | Tatjana |
* All prices including VAT