Yoga zur Rückbildung - mit oder ohne Baby
Online stream
Starts on Wednesday, 09/06/2021
Price 55.00 €
Description:
Übe mit oder ohne Baby. Ganz so, wie es der Tag zulässt. Unsere Einheiten unterstützen deinen Körper bei der Rückbildung, stärken dich auf allen Ebenen und kreieren Widerstands- fähigkeit für die herausfordernden Momente im Alltag. Außerdem darfst du mit viel Zeit und Liebe ankommen - in deiner neuen Rolle als Einfach-, Zweifach-, Dreifach- ... Mama.
Wir üben online. Und das Beste: sollte dein Baby dich brauchen und du schaffst es nicht live dabei zu sein - die Aufnahme wird dir zugesendet und du kannst 24 Stunden nachholen.
Online stream
There is an online stream available for this activity. To participate, take the following steps:
This studio uses Zoom as their streaming provider to online stream their activities. Download the according software or app to your laptop, tablet or smartphone.
The access to the online stream is available 15 minutes before the start of the activity. You can find the link for the online stream in your online profile under "My bookings". With a click on "Join online stream now" you will be forwarded to the corresponding page and you join the activity online!
Specific streaming providers, e.g. Zoom, allow participants to see each other through the video camera. If you do not want to show yourself or the personal environment, you can deactivate the camera function or cover the camera. The name you enter when you join the online meeting room will be shown to other participants. However, you can change your name at any time (e.g. only specify the initials).
Teacher :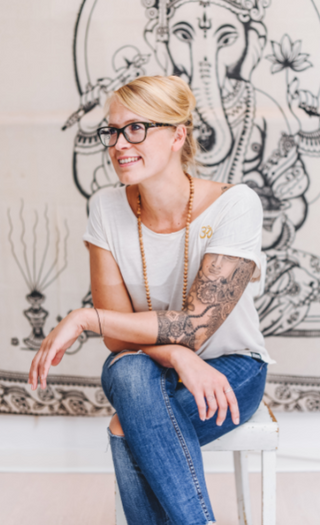 Vanessa
Vanessa leitet mit viel Herz & Leidenschaft das Studio. Sie ist eine fröhliche, reisende, abenteuerlustige, lebensbejahende & spirituelle Yogini, Yogalehrerin & Stressmanagement-Trainerin aus Leidenschaft. Für sie ist Yoga weit mehr als minutenlang in verschiendensten Asanas auszuharren - für sie ist Yoga wie etwas wonach sie schon immer gesucht hat... ein Weg! Ein Abenteuer! Ein Freund! Ein Geschenk! Umso mehr freut sie sich, ganzheitliches Yoga mit euch zu teilen und dieses wunderbare Geschenk weiterzugeben. Nach ihrer Ausbildung im Yogaloft Düsseldorf folgten viele Weiterbildungen, u. a. in Prenatal Yoga, Yin Yoga, Yogatherapie. Zuletzt hat sie ihre Yogatherapie Ausbildung bei Soboco Yoga in Köln abgeschlossen und bildet sich im therapeutischen Bereich mit viel Leidenschaft und Faszination für das Wunderwerk Körper weiter. In ihren Stunden wird gelacht, geschwitzt, meditiert, der eigene Körper und seine Grenzen erkundet und das Leben gefeiert. Besonderen Wert legt sie auf eine gesunde und stabile Ausrichtung, die individuell an jeden Schüler angepasst wird. Mit viel Leidenschaft ist sie ebenfalls für unsere Firmenkooperationen zuständig - als Stressmanagement-Trainerin und Betriebswirtin gibt sie Seminare, Workshops und unterstützt Unternehmen beim betrieblichen Gesundheitsmanagement. Weitere Energiequellen für Vanessa sind der Ozean, das Wellenreiten und das Reisen - die unglaublich vielen Facetten dieser Welt zu entdecken bedeutet für sie das pure Glück! Let Yoga change your life ...
Dates:
| | | | | |
| --- | --- | --- | --- | --- |
| 1. | 09/06/2021 | 10:00 - 11:00 | Kaiserswerther Straße 87, 40878 Ratingen | Vanessa |
| 2. | 16/06/2021 | 10:00 - 11:00 | Kaiserswerther Straße 87, 40878 Ratingen | Vanessa |
| 3. | 23/06/2021 | 10:00 - 11:00 | Kaiserswerther Straße 87, 40878 Ratingen | Vanessa |
| 4. | 30/06/2021 | 10:00 - 11:00 | Kaiserswerther Straße 87, 40878 Ratingen | Vanessa |
| 5. | 07/07/2021 | 10:00 - 11:00 | Kaiserswerther Straße 87, 40878 Ratingen | Vanessa |
* All prices including VAT