Wiesbaden: Bryan Kest - Power Yoga Workshop & Long Slow Deep
Starts on Wednesday, 28/06/2023
Price from 75.00 €
Description:
Eine Bryan Kest Power Master Class: Mittwoch, 28.6.23 um 18.00 Uhr
Das ist eine kurze (3 Stunden) Vertiefung in die "Praxis des Yoga". Dafür hält Bryan zuerst einen 45-60 min Talk, der Dich dort abholt wo Du stehst und Dich einschwingt auf die darauf folgende Praxis.
Für Bryan bedeutet Yoga zu praktizieren nicht nur den Körper zu stärken, sondern, was noch wichtiger ist, die Qualitäten unseres Geistes, die tatsächlich den größten Einfluss auf unser körperliches Wohlbefinden haben Beachtung zu schenken, denn wahre Gesundheit und Zufriedenheit entstehen durch einen ruhigen und friedlichen Geist. Wissenschaft und Medizin sagen uns heute, dass neunzig Prozent aller Krankheiten psychosomatisch sind; mit anderen Worten, die meisten Krankheiten haben ihren Ursprung in unserer Psyche und manifestieren sich in unserem Körper. Deshalb ist es umso wichtiger eine Yogaroutine zu finden, die von unserer Weisheit und nicht von unserer Eitelkeit beherrscht wird.
In dem 3-stündigen Workshops bringt Bryan all dies zusammen. Eine starke, abgerundete und doch einfache körperliche Praxis, die jeden Winkel unseres Körpers vor Vitalität vibrieren lässt und gleichzeitig unseren Geist herausfordert, indem sie die Qualitäten unseres Geistes stärkt, die am nützlichsten, positivsten und kraftvollsten sind, während sie die Qualitäten unseres Geistes auslöscht, die schädlich und stressauslösend sind.
A Bryan Kest Power Master Class: Wednesday, 28th of June 23 at 6:00pm
This is a short (1 class, 3 hours) immersion into the "practice of yoga". For this, Bryan will first give a 45-60 min talk that will pick you up where you are and set you up for the practice that follows.
For Bryan, practicing yoga means not only strengthening the body, but more importantly, paying attention to the qualities of our mind that actually have the greatest impact on our physical well-being, because true health and contentment come from a calm and peaceful mind. Science and medicine today tell us that ninety percent of all diseases are psychosomatic; in other words, most diseases originate in our psyche and manifest in our body. Therefore, it is even more important to find a yoga routine that is governed by our wisdom and not by our vanity.
In the 3-hour workshop, Bryan brings all of this together. A strong, well-rounded, yet simple physical practice that makes every corner of our body vibrate with vitality while challenging our mind by strengthening the qualities of our mind that are most beneficial, positive and powerful, while erasing the qualities of our mind that are harmful and stress-inducing.
Long, Slow, Deep: Donnerstag, 29. Juni 23 um 18.00 Uhr
ist eine klassische, von Bryan Kest entwickelte Klasse und besteht aus lang gehaltenen Übungen für eine tiefe Yin-Erfahrung. Long, Slow & Deep ist ein langsamerer Flow, der vor allem eine mentale Herausforderung darstellt und bei dem die Teilnehmer haben die Möglichkeit, klassische Posen zu vertiefen, sich auf den Atem zu konzentrieren und Geduld zu finden.
Der Workshop verfolgt zumindest vordergründig einige Ziele. Erstens wollte Bryan den Menschen damit eine tiefe und kraftvolle Alternative zu den unzähligen Vinyasa- und fließenden Hatha-Yoga-Kursen bieten. Zudem wollte er auch, dass die Menschen die Vorteile erfahren, die es mit sich bringt, die Posen etwas länger zu halten, um den wichtigen Bereichen den Körpers mehr Zeit zu geben, sich tiefer zu entspannen.
Dies ist wirklich eine der erstaunlichen Yoga-Masterclasses, die Bryan hällt, denn man geht buchstäblich "Stoned" aus der Stunde ;)
Long, Slow, Deep: Thursday, 29th June 23 at 6.00pm
This is a classic class, developed by Bryan Kest and consists of long held exercises for a deep yin experience. Long, Slow & Deep is a slower flow that is primarily mentally challenging and where participants have the opportunity to deepen classical poses, focus on the breath, and find patience.
The Workshop has a couple of goals, at least on the surface. First, Bryan wanted it to offer people a deep and powerful alternative to the myriad vinyasa and flowing hatha yoga classes. In addition, he also wanted people to experience the benefits of holding the poses a little longer to give the important areas of the body more time to relax more deeply.
This is truly one of the amazing yoga masterclasses Bryan holds, because you literally walk out of the class "Stoned" ;)
***
ABLAUF: In der Regel startet Bryan mit einer 45-60min theoretischen Einführung ins Thema, die Dich auf die folgende Praxis einschwing. Am Ende ist noch Raum für Fragen & Antworten.
CURRENT: Usually Bryan starts with a 45-60min theoretical introduction to the topic, which gets you in the mood for the following practice. At the end there is still room for questions & answers.
***
SPRACHE: Der Workshop wird in Englisch gehalten, man kann aber auch gut folgen, wenn man nicht perfekt Englisch gebürtig englisch sprachiger Mensch ist.
LANGUAGE: The workshop is held in english, but you can follow well even if you are not a perfect english or native english speaker.
Teacher :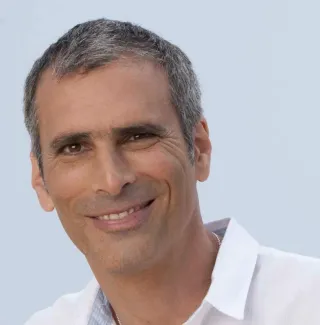 Bryan Kest
Bryan Kest kommt nun bereits seit mehr als 10 Jahren ins UNIT Yoga und wir freuen uns außerordentlich, Ihn nun endlich wieder zu uns einladen zu können. Bryan Kest gilt als der Begründer des Power Yoga und ist einer unserer wichtigsten Lehrer, die wir in unserem Leben nicht missen möchten. Er praktiziert Yoga seit 1979 und unterrichtet seit 1985. Er entwickelte 1979 seinen einzigartigen, unverwechselbaren Yogastil, den er Power Yoga nennt. Im Laufe der Jahre hat ihn dieser Stil, ein erstaunliches Workout für Körper, Geist und Seele, zu einem international bekannten und beliebten Lehrer gemacht. Mehr Informationen zu Bryan findest Du unter poweryoga.com. Bryan Kest has been coming to UNIT Yoga for more than 10 years now and we are extremely happy to finally invite him back. Bryan Kest is considered the founder of Power Yoga and is one of our most important teachers, whom we would not want to miss in our lives. He has been practicing yoga since 1979 and teaching since 1985, developing his unique and distinctive style of yoga called Power Yoga in 1979. Over the years this style, an amazing workout for body, mind and spirit, has made him an internationally known and loved teacher. For more information on Bryan, visit poweryoga.com.
Dates:
| | | | | |
| --- | --- | --- | --- | --- |
| 1. | 28/06/2023 | 18:00 - 21:00 | 30 Biebricher Allee , 65187 Wiesbaden | Bryan Kest |
| 2. | 29/06/2023 | 18:00 - 21:00 | 30 Biebricher Allee , 65187 Wiesbaden | Bryan Kest |
Cancellations
1) Rücktritt: Sie können von dem Vertrag zurücktreten, wobei die nachfolgenden Bedingungen, insbesondere die dabei anfallenden Gebühren gelten:
Bis 12 Wochen vor Beginn kostenfrei.
Bis 8 Wochen vor Beginn fallen 50% der Gebühren an.
Bis 4 Wochen vor Beginn fallen 75% der Gebühren an.
Ab 30 Tage bis 1 Tag vor Beginn fallen 90% der Kursgebühren an.
2) Umbuchung: Sofern eine Umbuchung - im Hinblick auf die Auslastung - in eine anderen Yoga-Workshop möglich ist, können Umbuchungen auf ein anderes Datum gegen eine Gebühr i.H.v. € 50,- / pro Person bis vor Beginn der ursprünglich gebuchten Veranstaltung durchgeführt werden. Eine Umbuchung liegt nur dann vor, wenn mit dem Umbuchungswunsch bzw. der schriftlichen Bekanntgabe der Nichtteilnahme gleichzeitig der neue Teilnahmetermin durch UNIT Yoga bestätigt wird, ansonsten handelt es sich um einen Rücktritt und wird wie unter Abs. 1 beschrieben behandelt. Eine Umbuchung ist nur einmalig möglich. Die ursprünglich vereinbarten Stornierungsfristen behalten jedoch auf Basis der ursprünglich gebuchten Ausbildung ihre Gültigkeit, auch wenn sich der durch die Umbuchung vereinbarte Teilnahmetermin auf einen späteren Zeitpunkt verschiebt.
3) Schriftlich: Ein Rücktritt oder eine Umbuchung muss mit Unterschrift schriftlich per Post oder per E-Mail an buchhaltung@unit-yoga.de erfolgen. Maßgeblich für den Zeitpunkt ist der Zugang der Rücktritts- bzw. der Umbuchungserklärung bei UNIT Yoga. Nach Beginn des Workshops ist kein Rücktritt und auch keine Umbuchung mehr möglich. Bei Nichterscheinen ist die Gebühr in voller Höhe fällig. Diese Regelungen gelten unabhängig vom Grund des Nichterscheinens und auch bei Vorlage eines Attests.
* All prices including VAT