Asana Intensiv: Übung macht den Meister
Starts on Sunday, 20/02/2022
Price 130.00 €
Description:
Du möchtest deine Yogapraxis intensivieren und in fordernden Yogastunden neue Asanas lernen? Kommst du in deiner eigenen Praxis nicht weiter und suchst ein Durchbrucherlebnis? Dann bist Du bei unserer vierteiligen Workshopreihe "Asana Intensiv: Übung macht den Meister" richtig.
Jeder der vier Workshops hat seinen eigenen Schwerpunkt und die Reihenfolge ist sinnvoll abgestimmt, wobei Du die Workshops auch einzeln buchen kannst.
Inhaltlich gehen wir auf Anatomie von einzelnen Asanas ein, lernen die erforderlichen Vorbereitungsübungen und auch kleine "Kunstgriffe", um Praxis zugänglicher zu gestalten. Pranayama Übungen, Tiefenentspannung und Meditation runden die einzelnen Einheiten ab.
Diese Reihe ist nicht für Yoga-Anfänger gedacht. Gewisse körperliche Fitness und Yogapraxis sind erforderlich.
Die Workshopreihe umfasst folgende Termine: 20. Februar Hit the split 20. März Be friends with backbends 10 April Try to fly 08. Mai Heart over head
Jeder Workshop geht über 2 Stunden von 14:00 bis 16:00 Uhr. Du kannst die Workshops einzeln buchen oder hier vergünstigt als Paket.
Teacher :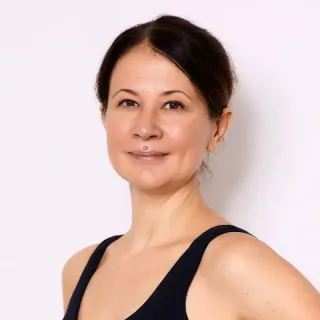 Alexandra
Alexandra Schall hat ihre Liebe zum Yoga im Jahr 2007 zufällig entdeckt. Ihre Begeisterung für Yoga weckte den Wunsch, diese Liebe weiter zu geben. Ihre zweijährige Yogalehrerausbildung (700 Std.) hat sie im Januar 2015 bei Yoga Vidya in Frankfurt abgeschlossen. Seitdem vertieft sie ihr theoretisches Wissen und praktisches Können kontinuierlich. In den letzten vier Jahren hat sie viele Traditionen wie Ashtanga, Vinyasa, Yin und Iyenger Yoga kennen und lieben gelernt, sodass sie ihren durch traditionelles Hatha Yoga geprägtes Unterrichtsstil mit vielen Elementen aus diesen Yogaschulen anreichert. Persönlich hat sie viel Freude an langsamer Praxis mit viel Aufmerksamkeit für die Ausführung, Atmung und Ganzheitlichkeit.
Dates:
| | | | | |
| --- | --- | --- | --- | --- |
| 1. | 20/02/2022 | 14:00 - 16:00 | Frankfurter Straße 59-61, 63067 Offenbach am Main | Alexandra |
| 2. | 10/04/2022 | 14:00 - 16:00 | Frankfurter Straße 59-61, 63067 Offenbach am Main | Alexandra |
| 3. | 29/05/2022 | 14:00 - 16:00 | Frankfurter Straße 59-61, 63067 Offenbach am Main | Alexandra |
Cancellations
Mit Eingang Deiner Zahlung ist Dein Platz fest reserviert, der Rechnungsbetrag ist sofort fällig. Deine Anmeldung ist bereits jetzt verbindlich. Stornierungen: Bis 4 Wochen vor Beginn der Veranstaltung berechnen wir im Falle einer Stornierung eine Bearbeitungsgebühr in Höhe von 25% der Teilnahmegebühr. Bis 2 Wochen vor Veranstaltungsbeginn erhöht sich die berechnete Bearbeitungsgebühr auf 50%. Danach ist eine Rückerstattung der Teilnahmegebühr nur bei Krankheit oder Unfall und gegen Vorlage eines ärztlichen Attests möglich.
* All prices including VAT