Hatha Kurs ALG II (Online und vor Ort)
Online stream
Starts on Tuesday, 12/04/2022
Description:
Dies ist ein fester Kurs für Bezieher oder Bezieherinnen von ALGII. Für Fragen hierzu wenden Sie sich an info@unit-yoga.de
Online stream
There is an online stream available for this activity. To participate, take the following steps:
This studio uses Zoom as their online streaming provider. Download the according app to your laptop, tablet or smartphone
Access to the online livestream is available 15 minutes before the start of the activity. Simply go to "My bookings" and click on "Join online stream now" to be redirected to the corresponding page
With some streaming providers (e.g. Zoom) it is possible for participants to see each other. However, it is theoretically possible to deactivate the camera function. The name you enter when entering the online meeting room is displayed to other participants. However, you can always change your name (e.g. only the initials). Please note: Individual rules for online participation may apply for each class or venue.
Trainer :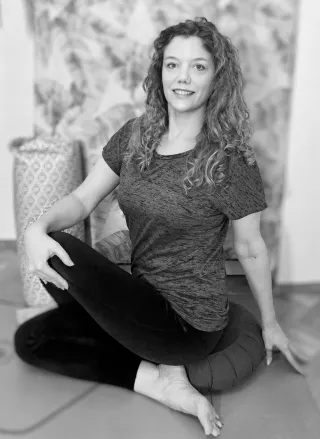 Maria Huttel
In einer Zeit der persönlichen Neuorientierung habe ich Yoga als regelmäßige Praxis für mich entdeckt. Nachdem ich in der 200h-Yogalehrerausbildung bei UNIT Wiesbaden tiefer in verschiedene Themen rund um Yoga eingetaucht bin, wie zum Beispiel Philosophie und Anatomie, war ich noch mehr von den positiven Wirkungen von Yoga überzeugt und begeistert. Besonders mag ich die fließenden, kraftvollen Stile, wie Vinyasa Power Yoga und Ashtanga Yoga, in denen Atmung und Bewegung zusammen eine "Meditation in Motion" ermöglichen. 2021 habe ich das Ashtanga Yoga Teacher Training bei UNIT absolviert und die +300h-Aufbauausbildung begonnen.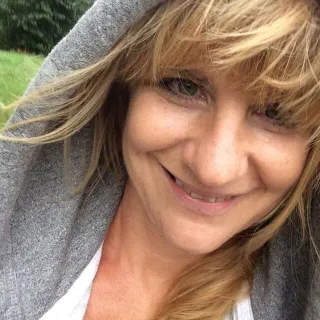 Sonja Becker
Sonja praktiziert seit über 20 Jahren Yoga und hat sich 2012 dazu entschieden, eine 2-jährige Ausbildung bei Yoga Vidya zu beginnen. Ihre Intention dabei war nicht primär, Lehrerin zu werden; sie wollte mehr wissen! Darauf folgten weitere Ausbildungen zur Hormonyogalehrerin (Yoga Vidya), Ashtangayogalehrerin (Ronald Steiner), Schmerztherapeutin (Liebscher und Bracht) und auch zahlreiche Weiterbildungen, wie zum Beispiel: Yoga für Jugendliche und Yoga für Senioren und Seniorinnen. Das Unterrichten speziell von Senioren und Seniorinnen liegt Sonja sehr am Herzen; die Lebenserfahrung und Gelassenheit ihrer Teilnehmenden lässt sie selbst immer wieder zur Schülerin werden.
Dates:
| | | | | |
| --- | --- | --- | --- | --- |
| 1. | 12/04/2022 | 12:30 - 13:30 | UNIT Yoga - Biebricher Allee 30, 65187 Wiesbaden | Maria Huttel |
| 2. | 19/04/2022 | 12:30 - 13:30 | UNIT Yoga - Biebricher Allee 30, 65187 Wiesbaden | Sonja Becker |
| 3. | 26/04/2022 | 12:30 - 13:30 | UNIT Yoga - Biebricher Allee 30, 65187 Wiesbaden | Sonja Becker |
| 4. | 03/05/2022 | 12:30 - 13:30 | UNIT Yoga - Biebricher Allee 30, 65187 Wiesbaden | Sonja Becker |
| 5. | 10/05/2022 | 12:30 - 13:30 | UNIT Yoga - Biebricher Allee 30, 65187 Wiesbaden | Sonja Becker |
| 6. | 17/05/2022 | 12:30 - 13:30 | UNIT Yoga - Biebricher Allee 30, 65187 Wiesbaden | Sonja Becker |
| 7. | 24/05/2022 | 12:30 - 13:30 | UNIT Yoga - Biebricher Allee 30, 65187 Wiesbaden | Sonja Becker |
| 8. | 31/05/2022 | 12:30 - 13:30 | UNIT Yoga - Biebricher Allee 30, 65187 Wiesbaden | Maria Huttel |
| 9. | 07/06/2022 | 12:30 - 13:30 | UNIT Yoga - Biebricher Allee 30, 65187 Wiesbaden | Sonja Becker |
| 10. | 14/06/2022 | 12:30 - 13:30 | UNIT Yoga - Biebricher Allee 30, 65187 Wiesbaden | Sonja Becker |
* All prices including VAT