Der Tod als Teil des Lebens Online mit Shakti am Fr 27.8.2021
Online stream
Starts on Friday, 27/08/2021
Price from 19.00 €
Description:
Dieser Workshop findet Live-Online statt
Mit der Geburt eines Menschen können wir eines sicher vorhersagen, dass er sterben wird. Alles andere ist ungewiss. Was wir über den Tod und das Sterben denken, beeinflusst wie wir leben und wie wir mit dem Tod eines geliebten Menschen umgehen. In der östlichen Sichtweise des Lebens, ist der Tod ein Übergang in eine andere Dimension. Was geschieht nach dem Tod? Wie kann ich Sterbende begleiten? Welche Hilfe gibt es für Verstorbene? Was kann man tun für sich und andere? Ein Abend zum Thema Tod und Sterben aus yogischer Sicht.
17:30 – 19:00 h Vortrag 19:00 – 19:20 h Pause 19:20 – 20:30 h sanfte Bewegung und Tiefenentspannung
Online stream
There is an online stream available for this activity. To participate, take the following steps:
This studio uses Zoom as their online streaming provider. Download the according app to your laptop, tablet or smartphone
Access to the online livestream is available 15 minutes before the start of the activity. Simply go to "My bookings" and click on "Join online stream now" to be redirected to the corresponding page
With some streaming providers (e.g. Zoom) it is possible for participants to see each other. However, it is theoretically possible to deactivate the camera function. The name you enter when entering the online meeting room is displayed to other participants. However, you can always change your name (e.g. only the initials). Please note: Individual rules for online participation may apply for each class or venue.
Trainer :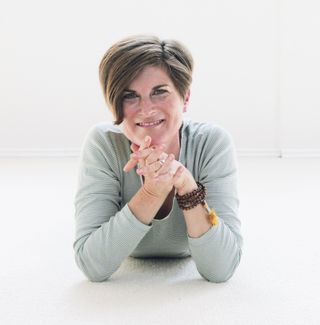 Shakti
Shakti schöpft mit viel Humor und Liebe zum Yoga aus den 25 Jahren ihrer eigenen Praxis, Unterrichtserfahrung und Ausbildung von Yogalehrern in Deutschland, Indien und den USA. Ihre Nähe zu den Teilnehmern lassen die Praxis zu einer intensiven Erfahrung werden, in der jede und jeder der Teilnehmer auf seine oder ihre ganz eigene Art die Tiefe und Schönheit des Yoga entdecken und erleben kann. Shaktis Unterricht ist klar, direkt und hat nur ein Ziel: sei, was du bist. Darauf besinnt sie sich selbst bei Auszeiten in der Natur, auf dem Mountainbike oder an einem stillen See und im Miteinander mit Freunden und Kolleg*innen. "Ich liebe Menschen - das Wunder ihrer Biologie, das Mysterium ihres Wesens und wie ich mit ihnen im Austausch sein kann. Der Mensch hat mich von jeher auf allen Ebene fasziniert. Offenheit, Interesse und Wertschätzung sind mir wichtig. Nur im Austausch mit anderen, erkenne ich mich selbst und Erfahrung und Lernen werden möglich. Das ist der wichtigste Teil meines lebenslangen Yoga-Abenteuers. Mein Motto: "Frag nicht, was die Welt braucht. Frag, was dich lebendig macht. Die Welt braucht Menschen, die lebendig sind."
Dates:
| | | | | |
| --- | --- | --- | --- | --- |
| 1. | 27/08/2021 | 17:30 - 20:30 | St.-German-Straße 1, 67346 Speyer | Shakti |
* All prices including VAT