Vorbereitung auf die Rauhnächte
Online stream
Starts on Sunday, 11/12/2022
Price 44.00 €
Description:
Die Zeit zwischen Weihnachten und dem Dreikönigsfest ist eine ganz Besondere - nicht nur für die Festlichkeiten und Familienfeiern.. diese Tage laden auch besonders ein zu Einkehr, Rückschau und Ausblick auf die Zukunft. Während der 12 Tage der Rauhnächte ist die Verbindung zu anderen Dimensionen besonders stark und es gab schon vor Hunderten von Jahren den Brauch in diesen Tagen viel zu Räuchern, damit Dämonen und Geister abgehalten werden konnten. Ich betrachte diese Zeit aber als Geschenk. Das Räuchern stimmt dich ein auf die Innenschau und du kannst auch besonders intensiv träumen, was dich dabei unterstützt das kommende Jahr zu visualisieren. Wir wollen diese Zeit gemeinsam mit Dir vorbereiten. Nach einer sanften Yogapraxis werden wir in der Zeremonie zunächst eine kleine Rückschau halten auf das vergangene Jahr, sowohl in Dankbarkeit als auch um herauszufinden, was im neuen Jahr bleiben darf oder nicht mehr mitgenommen werden will. Anschließend leite ich Dich an, deine Wünsche für das kommende Lebensjahr zu visualisieren und aufzuschreiben. Du kannst dir deine individuelle Räuchermischung zusammenstellen und mitnehmen, damit du die 12 Tage dann auch für dich zuhause zelebrieren kannst. Ausserdem bekommst du ein kleines Heft, um darin die Fragen für die Rauhnächte und deine Träume zu notieren und deine Wünsche zu manifestieren. Du kannst gerne einen Gegenstand, eine Frucht oder Blume für unseren Altar mitbringen. Die Zeremonie kostet 44 € für Mitglieder 40€.
Online stream
There is an online stream available for this activity. To participate, take the following steps:
Make sure to read the description of your booked activity in advance to know which streaming provider your studio. Download the necessary app to your laptop, tablet or smartphone
Access to the online livestream is available 15 minutes before the start of the activity. Simply go to "My bookings" and click on "Join online stream now" to be redirected to the corresponding page
With some streaming providers (e.g. Zoom) it is possible for participants to see each other. However, it is theoretically possible to deactivate the camera function. The name you enter when entering the online meeting room is displayed to other participants. However, you can always change your name (e.g. only the initials). Please note: Individual rules for online participation may apply for each class or venue.
Teacher :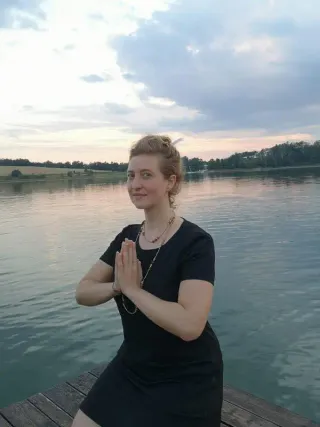 Eva Mira
Dates:
| | | | | |
| --- | --- | --- | --- | --- |
| 1. | 11/12/2022 | 15:00 - 17:00 | Merowingerstraße 20G, 40223 Düsseldorf | Eva Mira |
* All prices including VAT