Workshop* YOGA FÜR DEINE BALANCE **HYBRID (Lokal + Digital)
Online stream
Starts on Sunday, 26/03/2023
Price 35.00 €
Description:
Das Ziel dieses Workshop ist es, dir dabei zu helfen, dein Gleichgewicht wiederzufinden. Und damit ist sowohl das äußere, also das körperliche, Gleichgewicht gemeint als auch der innere, der mentale Ausgleich.
Die Asanas (Körperhaltungen und –übungen) stärken das Gleichgewicht. Während der Übungen liegt der Schwerpunkt auf Aspekten wie Erdung und Stabilität, um sowohl auf der Yogamatte als auch im Alltag wieder mehr Halt zu finden.
Die Asanas werden mit verschiedenen Atem- und Entspannungstechniken kombiniert, damit Körper, Geist und Seele zur Ruhe kommen die Übenden mehr Gelassenheit finden können.
Allgemeine Infos: Dieser Workshop ist für alle Level geeignet
Dieser Workshop wird ab mind. 7 TN geübt
Bitte bringe Deine eigene Yogamatte - sonst leihweise von RY
Parkplätze findest Du direkt vor der Yogaschule und ab 17:00 H + an den Wochenenden auch direkt vor den beiden Nebengebäuden
In unserem Yogashop vor Ort findest du alle notwendigen Yogahilfsmittel
Möchtest Du Online-Live-Üben- Sende uns eine Mail an revieryoga@gmail.com. Dann senden wir dir den Zoom-Link - via Mail ca. 15 Min vor Beginn der Session.
Online stream
There is an online stream available for this activity. To participate, take the following steps:
This studio uses Zoom as their online streaming provider. Download the according app to your laptop, tablet or smartphone
Access to the online livestream is available 15 minutes before the start of the activity. Simply go to "My bookings" and click on "Join online stream now" to be redirected to the corresponding page
With some streaming providers (e.g. Zoom) it is possible for participants to see each other. However, it is theoretically possible to deactivate the camera function. The name you enter when entering the online meeting room is displayed to other participants. However, you can always change your name (e.g. only the initials). Please note: Individual rules for online participation may apply for each class or venue.
Teacher :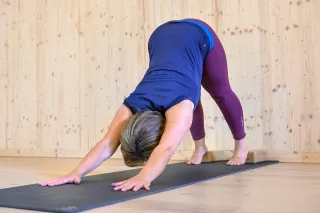 Claudia
Unterrichtet die Präventionskurse / Klassen: Yoga Pränatal, Yoga Postnatal ,Aligned Yoga ,Yin-Yang Yoga, Yin Yoga, Yoga meets Pilates, Restorative Yoga nach Iyengar, Aligned flow Yoga, Rope + Aerial Yoga, Pilates, Barre Fusion, Rückenfit Yoga Pilates, EMS Yoga + Pilates Weiterhin unterrichtet: Master Training - Restorative, Yin Yoga, Aligned Yoga nach Iyengar
Dates:
| | | | | |
| --- | --- | --- | --- | --- |
| 1. | 26/03/2023 | 12:00 - 14:00 | Gewerbestraße 30a, 44866 Bochum | Claudia |
Cancellations
Die Workshop-Anmeldung ist für beide Seiten verbindlich. Der Platz zur Teilnahme am Workshop ist garantiert bei erfolgter Anmeldung und erfolgter vollständiger Bezahlung, bis 7 Tage vor Workshoptermin. Bei kurzfristiger Buchung nach Mitteilung durch Revier Yoga. Der Workshop kann nur online gebucht werden. Stornierung durch den Kunden: bis 30 Tage vor Workshoptermin - Erstattung 80 % der Workshopgebühr - bis 14 Tage vor Workshoptermin - Erstattung 50 % der Workshopgebühr, danach ist eine Erstattung ausgeschlossen Es ist jedoch möglich, dass im Falle der Stornierung durch den TN eine von ihm genannte Ersatzperson den Platz übernehmen kann, in Absprache mit der Studioleitung.
*Revier Yoga behält sich vor, bei nicht ausreichender Teilnehmerzahl wie auch aus anderen Gründen die Veranstaltung kurzfristig abzusagen. Bis dahin gezahlte Gebühren werden zurück erstattet.
*Des weiteren gelten unsere allgemeinen AGB
* All prices including VAT