Mami Retreat - Zeit für dich
Online stream
Starts on Friday, 20/08/2021
Price from 109.00 €
Description:
Worum geht es in der 3 Tages Mami Auszeit?
Dich dabei zu unterstützen deine Kraft wieder zu wecken
Dich dabei zu begleiten deine Energie aufzutanken und diese wieder zu spüren
Dich dabei zu inspirieren deine Innere Ruhe zu finden
Was erwartet dich?
3 Meditationsübungen
3 Bewegungseinheiten
Rezepte für deinen Energiekick Zusätzlich erhälst du ein Paket mit Sonnenenergie Drinks aus reiner Aloe Vera, eine herrliche wohltuende Gesichtsmaske, einen Pflegestick aus Aloe Vera (Für einen Vielseiteigen Einsatz), einen Powershake (Vanille oder Schoko) sowie Supergreens inkl. VIT Kapseln mit allen Vitaminen die du in deiner Stillzeit brauchst.
Wer begleitet dich in deiner Mami Auszeit?
Tina Lau Inhaberin von Studio YOGAWOMAN und selbst Mama eines Sohnes. Meine Herzensaufgabe ist, dich in der Zeit nach der Schwangerschaft zu begleiten und dir deine Kraftquellen zu zeigen und diese zu wecken.
Online stream
There is an online stream available for this activity. To participate, take the following steps:
This studio uses Zoom as their streaming provider to online stream their activities. Download the according software or app to your laptop, tablet or smartphone.
The access to the online stream is available 15 minutes before the start of the activity. You can find the link for the online stream in your online profile under "My bookings". With a click on "Join online stream now" you will be forwarded to the corresponding page and you join the activity online!
Specific streaming providers, e.g. Zoom, allow participants to see each other through the video camera. If you do not want to show yourself or the personal environment, you can deactivate the camera function or cover the camera. The name you enter when you join the online meeting room will be shown to other participants. However, you can change your name at any time (e.g. only specify the initials).
Teacher :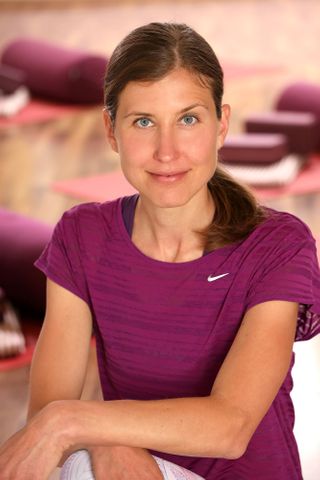 Tina Lau
Ich bin seit 2019 Studio-Inhaberin von YOGAWOMAN und Bewegung ist mein Lebenselixier. Ich lebe und liebe Yoga & Pilates seit 2008. Während eines Yoga- und Meditationsretreats auf Bali entschied ich mich für eine professionelle Yogaausbildung und praktiziere seitdem mit großer Begeisterung und Einfühlungsvermögen. Es ist mir eine Herzensangelegenheit Frauen in und nach der Schwangerschaft zu begleiten, um die Veränderungen des Körpers anzunehmen und in der Kraft zubleiben bzw. die Kraft wieder zurückholen. In meinen Kursen und Workouts für prä- und postnatales Yoga sowie Pilates fließen sowohl meine langjährigen Erfahrungen als Yoga und Pilates Trainerin ein, als auch meine Erfahrungen als Mama.
Dates:
| | | | | |
| --- | --- | --- | --- | --- |
| 1. | 20/08/2021 | 09:00 - 19:00 | Belgradstraße 14, 80796 München | Tina Lau |
| 2. | 21/08/2021 | 09:00 - 19:00 | Belgradstraße 14, 80796 München | Tina Lau |
| 3. | 22/08/2021 | 09:00 - 19:00 | Belgradstraße 14, 80796 München | Tina Lau |
| 4. | 24/09/2021 | 09:00 - 19:00 | Belgradstraße 14, 80796 München | Tina Lau |
| 5. | 25/09/2021 | 09:00 - 19:00 | Belgradstraße 14, 80796 München | Tina Lau |
| 6. | 26/09/2021 | 09:00 - 19:00 | Belgradstraße 14, 80796 München | Tina Lau |
| 7. | 22/10/2021 | 09:00 - 19:00 | Belgradstraße 14, 80796 München | Tina Lau |
| 8. | 23/10/2021 | 09:00 - 19:00 | Belgradstraße 14, 80796 München | Tina Lau |
| 9. | 24/10/2021 | 09:00 - 19:00 | Belgradstraße 14, 80796 München | Tina Lau |
* All prices including VAT