Baby Yoga (ab 3 Monaten)
Online stream
Starts on Thursday, 12/01/2023
Description:
Dieser Kurs findet vor Ort im Studio statt und wird gleichzeitig online übertragen. So kannst Du ganz individuell entscheiden, welche Art der Teilnahme für Dich am besten ist. Baby Yoga ist eine spielerische Praxis zwischen Baby und Mama. Die Babys werden von ihren erwachsenen Begleiter mit gezielten Bewegungen in Mini-Posen gebracht, die die gesundheitlichen Entwicklungen fördern, z.B. die Verdauung anregen oder die Verknüpfung der rechten und linken Gehirnhälften begünstigen. Jede Stunde wird individuellen Bedürfnissen der Babys angepasst, um am Ende gelassen in die gemeinsame Entspannung zu gehen - da ist guter Schlaf vorprogrammiert. Die kleinen Yogis sollten bei Kursbeginn mindestens 3 Monate alt sein. Dieser Kurs ist vor allem für nicht-moblie Babys geeignet, die noch nicht krabbeln oder robben.
Online stream
There is an online stream available for this activity. To participate, take the following steps:
This studio uses Zoom as their online streaming provider. Download the according app to your laptop, tablet or smartphone
Access to the online livestream is available 15 minutes before the start of the activity. Simply go to "My bookings" and click on "Join online stream now" to be redirected to the corresponding page
With some streaming providers (e.g. Zoom) it is possible for participants to see each other. However, it is theoretically possible to deactivate the camera function. The name you enter when entering the online meeting room is displayed to other participants. However, you can always change your name (e.g. only the initials). Please note: Individual rules for online participation may apply for each class or venue.
Teacher :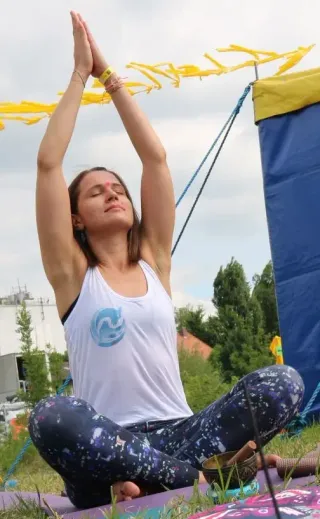 Eva
Seit einer Indienreise im Sommer 2008 übe ich begeistert Yoga. Meine erste Stunde absolvierte ich recht unwissend in der Yogastadt Rishikesh am Ganges und wollte das besondere Shavasana-Gefühl seitdem nicht mehr missen. Mein Interesse für Yoga wurde immer größer, sodass ich mich für ein sehr facettenreiches Teacher-Training bei Rainbow Yoga entschied. Ich lernte von Fruchtbarkeits- über Schwangerenyoga bis hin zu Seniorenyoga die richtigen Asanas für jede Lebenslage kennen. Obwohl ich anfangs dachte, ich will hauptsächlich Kinder- und Teensyoga unterrichten, hat es mir vor allem Yoga für Babys angetan. Mir gefällt daran, dass sogar die Kleinsten die positiven Effekte von Yoga nutzen können und ich genieße jedes ansteckende Babylachen in den Stunden!
Dates:
| | | | | |
| --- | --- | --- | --- | --- |
| 1. | 12/01/2023 | 15:30 - 16:30 | Belgradstraße 14, 80796 München | Eva |
| 2. | 19/01/2023 | 15:30 - 16:30 | Belgradstraße 14, 80796 München | Eva |
| 3. | 26/01/2023 | 15:30 - 16:30 | Belgradstraße 14, 80796 München | Eva |
| 4. | 02/02/2023 | 15:30 - 16:30 | Belgradstraße 14, 80796 München | Eva |
| 5. | 09/02/2023 | 15:30 - 16:30 | Belgradstraße 14, 80796 München | Eva |
* All prices including VAT