Präventionskurs 17:00
Online stream
Starts on Friday, 13/01/2023
Description:
Präventionskurse, auch Krankenkassenkurse genannt, sind Kurse mit einer festen Anzahl von Stunden und einem geprüften und von einer zentralen Prüfstelle genehmigten Konzept.
Diese Kurse werden von allen gesetzlichen Krankenkassen zu 75 % bis 100% der Kursgebühr bezuschusst.
Hier werden Dir grundlegende Kenntnisse über Yoga als praktischen Übungsweg vermittelt. Die Achtsamkeit in Körperhaltungen, in der Bewegung und beim Atem.
Auch die wertfreie Wahrnehmung der Gedanken gehören zu diesem Konzept. Dies hilft die ewig kreisenden Gedanken zu unterbrechen und einen neuen geistigen Fokus zu setzen.
Am Ende des Kurses wirst Du in der Lage sein, Stress auslösende Faktoren zu erkennen und diesen entgegen zu wirken.
Online stream
There is an online stream available for this activity. To participate, take the following steps:
This studio uses Zoom as their online streaming provider. Download the according app to your laptop, tablet or smartphone
Access to the online livestream is available 15 minutes before the start of the activity. Simply go to "My bookings" and click on "Join online stream now" to be redirected to the corresponding page
With some streaming providers (e.g. Zoom) it is possible for participants to see each other. However, it is theoretically possible to deactivate the camera function. The name you enter when entering the online meeting room is displayed to other participants. However, you can always change your name (e.g. only the initials). Please note: Individual rules for online participation may apply for each class or venue.
Trainer :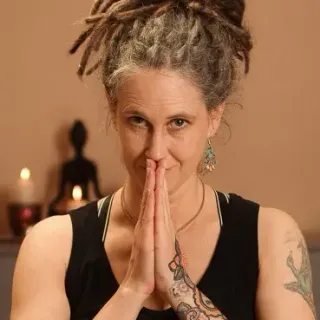 Vanessa
Dates:
| | | | | |
| --- | --- | --- | --- | --- |
| 1. | 13/01/2023 | 17:00 - 18:30 | Arsbecker Straße 159, 41844 Wegberg | Vanessa |
| 2. | 20/01/2023 | 17:00 - 18:30 | Arsbecker Straße 159, 41844 Wegberg | Vanessa |
| 3. | 03/02/2023 | 17:00 - 18:30 | Arsbecker Straße 159, 41844 Wegberg | not specified |
| 4. | 10/02/2023 | 17:00 - 18:30 | Arsbecker Straße 159, 41844 Wegberg | Vanessa |
| 5. | 17/02/2023 | 17:00 - 18:30 | Arsbecker Straße 159, 41844 Wegberg | Vanessa |
| 6. | 03/03/2023 | 17:00 - 18:30 | Arsbecker Straße 159, 41844 Wegberg | Vanessa |
| 7. | 10/03/2023 | 17:00 - 18:30 | Arsbecker Straße 159, 41844 Wegberg | Vanessa |
| 8. | 24/03/2023 | 17:00 - 18:30 | Arsbecker Straße 159, 41844 Wegberg | Vanessa |
| 9. | 31/03/2023 | 17:00 - 18:30 | Arsbecker Straße 159, 41844 Wegberg | Vanessa |
| 10. | 14/04/2023 | 17:00 - 18:30 | Arsbecker Straße 159, 41844 Wegberg | Vanessa |
* All prices including VAT