fit for Mysore mit Sanjay
Starts on Saturday, 13/07/2019
Price from 20.00 €
Description:
Hast du Lust tiefer ins Ashtanga Yoga einzutauchen und auf traditionelle Art zu praktizieren?
Mysore ist die Form, in der Ashtanga Yoga traditioneller Weise in Indien und mittlerweile weltweit unterrichtet wird. Hierbei praktiziert jeder ganz individuell im eigenen Rhythmus und in unterschiedlicher Intensität.
In diesem Workshop wird dich Sanjay (autorisiert von Sri Sharath Jois) in die Prinzipien des Mysore Styles einführen. Die Kenntnis über den Ablauf & das Ausführen der Ashtanga Yoga Serie eröffnet Dir die Möglichkeit Deine eigene Praxis zu etablieren und tief ins Ashtanga Yoga einzutauchen. Die Magie des Ashtanga Yoga liegt u.a. in der festgelegten Übungsreihe begründet, hierbei wird jeder Atemzug in Verbindung mit der Bewegung gezählt. Durch den Vinyasacount und die Asanas kannst Du in ein tiefe bewegte Mediation eintauchen, dadurch verbindest Du Dich mit der lebendigen Tradition des Ashtanga Yoga und erlebst die Energie welche schon von vielen tausenden Yogis zuvor durch die gleiche Art & Weise praktiziert und genährt wurde.
Ashtanga Yoga kann ein Teil Deines Lebens werden und Dich Stück für Stück näher zu Deinem Selbst führen.
Teacher :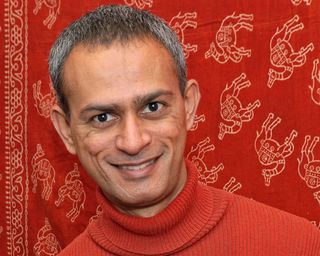 Sanjay
"To me, Yoga is more than just an asana practice. Since Yoga and Ayurveda are sister sciences, I believe that to get the most benefit from a Yoga asana practice, one must try and incorporate all the 8 limbs of Yoga and follow an Sattvic Ayurvedic diet. " Sanjay was exposed to Yoga and Ayurveda having grown up in a traditional Hindu family in Bangalore/Mysore, India. He studied engineering and lived in Boston, USA for 25 years before quitting the corporate world and moving to Munich, Germany as a freelance photographer. In 2011, Sanjay started studying Ashtanga Yoga in Boston, USA with George Whiteside and Jean Cho. From 2012, he studied at the KPJAYI (Krishna Pattabhi Jois Ashtanga Yoga Institute), Mysore, India under the guidance of Sri Sharath Jois, spending 3-4 months at the shala each year. In 2017, he was authorized to teach by Sri Sharath Jois. Sanjay has many years of experience in Ayurvedic cooking learned from his family, self-study and his own personal experience following an Ayurvedic diet to supplement his yoga practice. He enjoys teaching Ashtanga Yoga and Ayurvedic cooking. He has been studying the teachings of Sri Ramana Maharshi since 2013.
Dates:
| | | | | |
| --- | --- | --- | --- | --- |
| 1. | 13/07/2019 | 12:00 - 13:30 | Thorwaldsenstraße 29, 80335 München | Sanjay |
* All prices including VAT