AYURVEDIC COOKING CLASS FOR YOGIS
Starts on Saturday, 27/11/2021
Description:
Samstag 27.11.2021 15:00 bis ca 18:30
Yoga and Ayurveda are sister sciences. A balanced Ayurvedic diet enhances and supports one's Yoga practice as Ayurveda is aimed at relieving diseases of the body and mind.
Sanjay has been practicing Ashtanga Yoga for 10 years. From his own experience, he found that using Ayurveda for healing has greatly helped his Ashtanga Yoga practice and his health. He has been studying Ayurveda with Dr. Padmini Ranganathan in Mysore, India for the past 8 years. In addition, coming from a traditional South Indian family Sanjay has gained a lot of knowledge about cooking from his family.
In the cooking class, Sanjay will provide an introduction to Ayurveda and talk about how food can influence one's yoga practice and will teach you how to cook Sattvic Ayurvedic meals including making Ghee. You will learn about some basic Ayurvedic principles such as the 3 qualities of Primal Nature or Gunas (Rajas, Sattva, Tamas) and the 3 pranic/life energies or Doshas (Vata, Pitta, Kapha). Yoga is about returning the mind to its original pure or Sattvic state. A Sattvic diet will help achieve this by enhancing one's yoga practice.
Please bring your own plate and spoons
The Workshop will be limited for 8 people Class takes 3 hours costs: 45€ for the workshop 10€ for food (please bring in cash) 55 € in total including Dinner :-)
Teacher :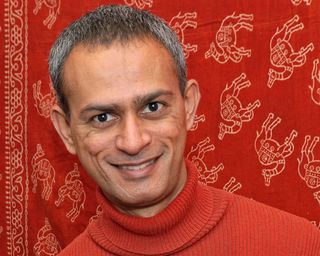 Sanjay
"To me, Yoga is more than just an asana practice. Since Yoga and Ayurveda are sister sciences, I believe that to get the most benefit from a Yoga asana practice, one must try and incorporate all the 8 limbs of Yoga and follow an Sattvic Ayurvedic diet. " Sanjay was exposed to Yoga and Ayurveda having grown up in a traditional Hindu family in Bangalore/Mysore, India. He studied engineering and lived in Boston, USA for 25 years before quitting the corporate world and moving to Munich, Germany as a freelance photographer. In 2011, Sanjay started studying Ashtanga Yoga in Boston, USA with George Whiteside and Jean Cho. From 2012, he studied at the KPJAYI (Krishna Pattabhi Jois Ashtanga Yoga Institute), Mysore, India under the guidance of Sri Sharath Jois, spending 3-4 months at the shala each year. In 2017, he was authorized to teach by Sri Sharath Jois. Sanjay has many years of experience in Ayurvedic cooking learned from his family, self-study and his own personal experience following an Ayurvedic diet to supplement his yoga practice. He enjoys teaching Ashtanga Yoga and Ayurvedic cooking. He has been studying the teachings of Sri Ramana Maharshi since 2013.
Dates:
| | | | | |
| --- | --- | --- | --- | --- |
| 1. | 27/11/2021 | 15:00 - 18:30 | Thorwaldsenstraße 29, 80335 München | Sanjay |
* All prices including VAT