Mindful Sunrise Meditation (Serie 8x)
Online stream
Starts on Tuesday, 06/04/2021
Price from 10.00 €
Description:
Die Tage werden langsam heller, die Sonne ist bereits am Aufgehen. Diese lichtvollen Morgende wollen wir nutzen für einen achtsamen Start in den Tag.
Wir treffen uns an 8 aufeinander folgenden Dienstagmorgenden über Zoom an einem friedlichen Ort bei dir zu Hause und beginnen den Tag in Achtsamkeit.
Gemeinsam erfahren wir, wie wir durch Meditation in Stille und mit Anleitung (Achtsamkeitsmeditation nach Jon Kabat-Zinn) mit mehr Ruhe und Gelassenheit in den Tag starten.
Du wolltest Meditation schon immer in deinen Alltag bringen, bisher fehlte dir aber die Disziplin, du weißt nicht wie Meditieren überhaupt funktioniert, du hattest immer keine Zeit oder Zweifel, dass du überhaupt meditieren kannst...? Unser Geist ist sehr erfinderisch, wenn es darum geht die Komfortzone nicht zu verlassen.
Dieses Angebot bietet eine gute Gelegenheit deinen Geist auszutricksen. Wissenschaftler haben erforscht, dass es ca. 8Wochen dauert eine neue Gewohnheit im Gehirn anzulegen, schau doch mal, was es mit dir macht.
Du kannst diese Meditationsstunde einzeln buchen. Empfehlen würde ich dir aber den ganzen Kurs von 8 Terminen zu buchen (du sparst dann auch, statt 15,00EUR pro Stunde sind es nur knapp 12,00EUR als Serie 89,00EUR)
Wir treffen uns über Zoom. Nach der Anmeldung erhältst du Informationen, wie du online über Zoom teilnehmen kannst.
Online stream
There is an online stream available for this activity. To participate, take the following steps:
This studio uses Zoom as their streaming provider to online stream their activities. Download the according software or app to your laptop, tablet or smartphone.
The access to the online stream is available 15 minutes before the start of the activity. You can find the link for the online stream in your online profile under "My bookings". With a click on "Join online stream now" you will be forwarded to the corresponding page and you join the activity online!
Specific streaming providers, e.g. Zoom, allow participants to see each other through the video camera. If you do not want to show yourself or the personal environment, you can deactivate the camera function or cover the camera. The name you enter when you join the online meeting room will be shown to other participants. However, you can change your name at any time (e.g. only specify the initials).
Trainer :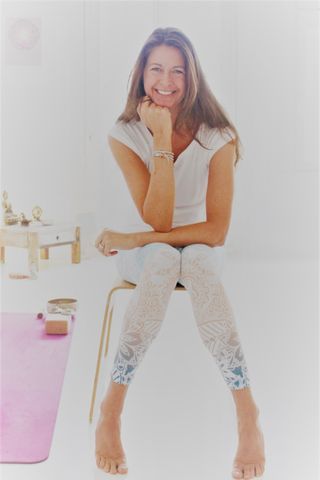 Britta
Yoga bedeutet für mich in Verbindung zu gehen. In Verbindung mit meinem Körper, in Verbindung mit meiner Atmung und in Verbindung mit den Stimmungen, die mich gerade begleiten. Wenn mir das ohne Bewertungen und Vergleichen gelingt, mir einfach wertfreies Gewahrsein gelingt, dann macht mich das glücklich. Mein Anliegen ist es, einen Raum und eine Atmosphäre für meine Schüler zu schaffen, der möglichst viele dieser so wertvollen Präsenzerfahrungen eröffnet. In einer ganz besonderen Qualität gelingt dies natürlich in der Natur, auf dem Alstersteg, auf den Alsterschiffen oder auf der Seebrücke an der Ostsee. Aber selbst im Onlineformat hat sich gezeigt, dass es möglich ist. Ich bin dankbar, dass sich dieses Tor aufgetan hat und so auch viele Teilnehmer dabei sein können, für die es ansonsten nicht möglich ist, Yoga/Achtsamkeit mit mir zu machen.
Dates:
| | | | | |
| --- | --- | --- | --- | --- |
| 1. | 06/04/2021 | 07:00 - 08:00 | Online ., . . | Britta |
| 2. | 13/04/2021 | 07:00 - 08:00 | Online ., . . | Britta |
| 3. | 20/04/2021 | 07:00 - 08:00 | Online ., . . | Britta |
| 4. | 27/04/2021 | 07:00 - 08:00 | Online ., . . | Britta |
| 5. | 04/05/2021 | 07:00 - 08:00 | Online ., . . | Britta |
| 6. | 11/05/2021 | 07:00 - 08:00 | Online ., . . | Britta |
| 7. | 18/05/2021 | 07:00 - 08:00 | Online ., . . | Britta |
| 8. | 25/05/2021 | 07:00 - 08:00 | Online ., . . | Britta |
| 9. | 01/06/2021 | 07:00 - 08:00 | Online ., . . | Britta |
* All prices including VAT