Yoga Nidra - Der Yogaschlaf (online)
Online stream
Starts on Friday, 02/04/2021
Price 25.00 €
Description:
In diesen fast zwei Stunden gebe ich eine Einführung in die Yoga NIDRA Technik. Du kannst sie dann immer wieder für dich ausführen, dir eine PAUSE – zum Durchatmen, Entspannen und Entschleunigen geben.
Was ist Yoga Nidra?
Yoga Nidra ist eine effektive Tiefenentspannungstechnik, die es uns möglich macht, uns in einer halben Stunde auf körperlicher, mentaler und emotionaler Ebene völlig zu entspannen. Der Empfangende liegt und erfährt eine angeleitete Reise durch den Körper und versucht nicht einzuschlafen. Während der Körper auf diese spezielle Art schläft, bleibt unser Bewusstsein präsent , was dazu führt, dass du während der Übung körperliche, mentale und seelische Verspannungen lösen und Blockaden abbauen kannst. Die positiven Auswirkungen von Yoga Nidra können sich im Alltag dadurch bemerkbar machen, dass sich dein gesundheitlicher Zustand verbessert du gelassener und zufriedener wirst. sich deine Konzentration verbessert dein Nachtschlaf sich verbessert deine Intuition geschärft wird. Eine halbe Stunde Yoga Nidra wirkt so entspannend wie drei Stunden Schlaf heißt es. Möchtest du gelassener durchs Leben gehen? Strebst du einen besseren Nachtschlaf an? Möchtest du dich besser konzentrieren und deine Intuition gezielter einsetzen können?
Am Ende des Kurses erhalten die Teilnehmer eine Audiodatei zum Üben zu Hause.
Vorkenntnisse sind nicht nötig.
Online stream
There is an online stream available for this activity. To participate, take the following steps:
This studio uses Zoom as their streaming provider to online stream their activities. Download the according software or app to your laptop, tablet or smartphone.
The access to the online stream is available 15 minutes before the start of the activity. You can find the link for the online stream in your online profile under "My bookings". With a click on "Join online stream now" you will be forwarded to the corresponding page and you join the activity online!
Specific streaming providers, e.g. Zoom, allow participants to see each other through the video camera. If you do not want to show yourself or the personal environment, you can deactivate the camera function or cover the camera. The name you enter when you join the online meeting room will be shown to other participants. However, you can change your name at any time (e.g. only specify the initials).
Teacher :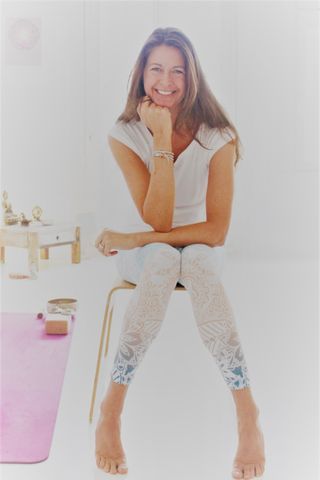 Britta
Yoga bedeutet für mich in Verbindung zu gehen. In Verbindung mit meinem Körper, in Verbindung mit meiner Atmung und in Verbindung mit den Stimmungen, die mich gerade begleiten. Wenn mir das ohne Bewertungen und Vergleichen gelingt, mir einfach wertfreies Gewahrsein gelingt, dann macht mich das glücklich. Meine Anliegen ist es, einen Raum und eine Atmosphäre für meine Schüler zu schaffen, der möglichst viele dieser so wertvollen Präsenzerfahrungen eröffnet. In einer ganz besonderen Qualität gelingt dies natürlich in der Natur, auf dem Alstersteg, auf den Alsterschiffen oder auf der Seebrücke an der Ostsee zu machen. Aber selbst im Onlineformat hat sich gezeigt ist es möglich und ich bin dankbar, dass sich dieses Tor aufgetan hat und so auch viele Teilnehmer dabei sein können, für die es ansonsten nicht möglich ist, Yoga/Achtsamkeit mit mir zu machen.
Dates:
| | | | | |
| --- | --- | --- | --- | --- |
| 1. | 02/04/2021 | 19:30 - 21:15 | Online ., . . | Britta |
* All prices including VAT