Meditation lernen & (Yin) Yoga ONLINE
Online stream
Starts on Friday, 30/10/2020
Price 25.00 €
Description:
Alles bewegt sich, alles ist im stetigen Wandel, der Alltag oft schnelllebig und hektisch. Und da soll ich noch 'Zeit' finden für Meditation oder Stillsitzen?! Was bedeutet das genau, wie fange ich an, wie setze ich das um und wie lang ist genug?
In diesem Workshop möchten wir dir den Einstieg in die Stille und das Durchhalten im Alltag erleichtern, dein Gedankenkarussell bewusst verlangsamen. Wir analysieren die bekannten Anfangsschwierigkeiten, lernen verschiedene Techniken der Meditation und der Atmung, bauen die Hemmschwelle idealerweise ab und unterstützen unsere Praxis mit ätherischen Ölen und sonstigen 'Helfern'. Abgerundet wird unsere gemeinsame Zeit mit einer harmonischen YogaPraxis, getragen von deiner ganz eigenen Intention für deinen 'neuen' Alltag.
Ein ruhiger und doch lebendiger, leichter Abend rund um deine ganz eigene Pause für mehr tägliche Gelassenheit und Klarheit , wir freuen uns auf dich!
Trage bequeme Kleidung und halte ggf. eine Wasserflasche bereit Keinerlei Vorkenntnisse erforderlich Dauer: ca. 2 Stunden
Online stream
There is an online stream available for this activity. To participate, take the following steps:
This studio uses Zoom as their streaming provider to online stream their activities. Download the according software or app to your laptop, tablet or smartphone.
The access to the online stream is available 15 minutes before the start of the activity. You can find the link for the online stream in your online profile under "My bookings". With a click on "Join online stream now" you will be forwarded to the corresponding page and you join the activity online!
Specific streaming providers, e.g. Zoom, allow participants to see each other through the video camera. If you do not want to show yourself or the personal environment, you can deactivate the camera function or cover the camera. The name you enter when you join the online meeting room will be shown to other participants. However, you can change your name at any time (e.g. only specify the initials).
Teacher :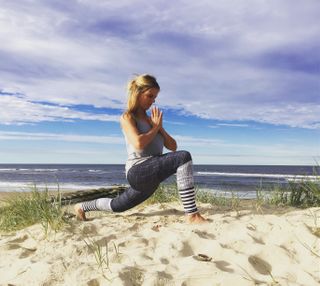 Alex
Alex arbeitet seit 2014 als Yogalehrerin in Laboe. Durch mehrere Auslansaufenthalte hat sie auch in Australien unterrichtet. Ihre Leidenschaft liegt in der Vermittlung von Yoga in all seinen verschiedenen Formen. Ihre Stunden sind stets eine Balance zwischen Bewegung und Entspannung, kombiniert mit vielen Workshop-Elementen. Meditation, Tiefenentspannung, die Anwendung ätherischer Öle und Edelsteine, Massage, Musik, Spaß und viel Herzlichkeit sind einige der Stundenbestandteile. Lasst euch überraschen!
Dates:
| | | | | |
| --- | --- | --- | --- | --- |
| 1. | 30/10/2020 | 18:00 - 20:00 | Börn 4, 24235 Laboe | Alex |
* All prices including VAT