WORKSHOP - Intuition: Die Stimme deiner Seele mit Julia
Online stream
Starts on Saturday, 26/06/2021
Price 45.00 €
Description:
Intuition: Die Stimme deiner Seele
Intuition – wie wissen wir, was wir wissen? Die Stimme der Intuition hörst du, wenn du still wirst. Doch was bedeutet Intuition eigentlich?
Wie finde ich Zugang zu meiner Intuition und warum führt die Stimme der Intuition vielleicht sogar manchmal zu Verunsicherung?
In diesem Workshop werden wir die verschiedenen Bedeutungen von Intuition beleuchten und welche Herausforderungen sowie Potenziale hinter der Kraft der Intuition stehen. Anhand von 5 Schritten lernst du, mit der Stimme der Intuition zu arbeiten und sie in dein Leben zu integrieren.
Im Praxisteil gehen wir ins Spüren übers Tanzen, einer herzöffnenden Sun Yoga Einheit sowie Zeit für Journaling Aufgaben und Austausch in Gruppen.
Samstag, den 26. Juni 2021 11 bis 14.30 Uhr
Preis: 45 Euro
Online stream
There is an online stream available for this activity. To participate, take the following steps:
This studio uses Zoom as their streaming provider to online stream their activities. Download the according software or app to your laptop, tablet or smartphone.
The access to the online stream is available 15 minutes before the start of the activity. You can find the link for the online stream in your online profile under "My bookings". With a click on "Join online stream now" you will be forwarded to the corresponding page and you join the activity online!
Specific streaming providers, e.g. Zoom, allow participants to see each other through the video camera. If you do not want to show yourself or the personal environment, you can deactivate the camera function or cover the camera. The name you enter when you join the online meeting room will be shown to other participants. However, you can change your name at any time (e.g. only specify the initials).
Trainer :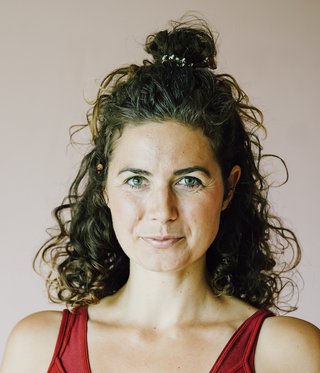 Julia
Manchmal beginnen gerade in schwierigen oder schmerzhaften Phasen des Lebens die schönsten Reisen. Nach einer Erschöpfung konnte Julia durch Yoga ihren Körper wieder spüren und ihr Leben positiv verändern. Zu mehr Leichtigkeit, Bewusstheit und Selbsterkenntnis. Die "Remember who you are"-Yogalehrerausbildung bei Wanda Badwal war ein weiterer Moment des Erwachens in ihrer Reise zu sich selbst. Ihr war sofort bewusst, dass sie das Konzept von Sun, Moon und Fire als Yogalehrerin weitergeben möchte. Die energiegerichtete Wirkung hatte sie bis dahin noch nie so erlebt. Yoga zu praktizieren, ist für Julia mehr als eine körperliche Praxis. Sie sieht darin den Tanz des Lebens, dem man sich in all seinen Facetten hingibt und das Potenzial für mehr Fülle erkennen kann.
Dates:
| | | | | |
| --- | --- | --- | --- | --- |
| 1. | 26/06/2021 | 11:00 - 14:30 | Live Stream .., 0000 "Bei Dir zu Hause" | Julia |
* All prices including VAT