Trennungsangst - Endlich Entspannt alleine bleiben
Online stream
Starts on Monday, 17/04/2023
Price 99.00 €
Description:
Onlinekurs Trennungsstress
Entspannt allein daheim
Du kannst deinen Hund nicht allein zu Hause lassen, ohne dass er etwas kaputt macht? Oder du merkst, dass dein Hund anfängt zu winseln, wenn du zur Arbeit gehst? Eigentlich war dein Hund immer entspannt zu Hause, doch plötzlich geht das nicht mehr?
Der Trennungsstress des Hundes kann deinen Alltag und das Zusammenleben mit dem Hund erheblich beeinträchtigen. An unserem Onlinekurs kannst du bequem von zu Hause aus teilnehmen und die Trainingsschritte in deinem Tempo daheim und in Ruhe umsetzen.
Diese Inhalte erwarten dich:
Hintergründe zum Thema Trennungsstress (Entstehung, Symptome, Stolpersteine & Mythen, usw.)
Aufbau einer Ruhezone
Aufbau konditionierter Entspannung und Kennenlernen der stabilisierenden Faktoren für den eigenen Hund
Desensibilisierung von Schlüsselreizen
Ideenpool der Beschäftigung
Tipps zum Weggehen und Wiederkommen
Etablieren von Trennungszeiten in 3 Phasen
So gehen wir vor:
Wöchentlich ein Onlinemeeting per zoom mit dem Ziel jedes Thema kleinschrittig zu erläutern
Feedbackrunde zum Anfang jeder Stunde für Fragen rund ums Training zu Hause
Wöchentliche Zusendung eines Workbooks für Notizen und Trainingsfortschritte zum eigenen Hund
Dauer: 6 Wochen
Termin: Freitags, 19 Uhr per Zoom
Kosten: 99 €
Online stream
There is an online stream available for this activity. To participate, take the following steps:
This studio uses Zoom as their online streaming provider. Download the according app to your laptop, tablet or smartphone
Access to the online livestream is available 15 minutes before the start of the activity. Simply go to "My bookings" and click on "Join online stream now" to be redirected to the corresponding page
With some streaming providers (e.g. Zoom) it is possible for participants to see each other. However, it is theoretically possible to deactivate the camera function. The name you enter when entering the online meeting room is displayed to other participants. However, you can always change your name (e.g. only the initials). Please note: Individual rules for online participation may apply for each class or venue.
Trainer :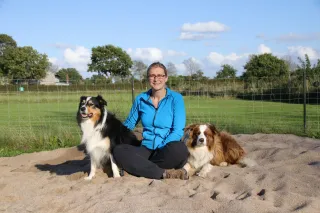 Anja
Dates:
| | | | | |
| --- | --- | --- | --- | --- |
| 1. | 17/04/2023 | 10:00 - 11:00 | Wiesiker Straße 2, 24848 Klein Bennebek | Anja |
| 2. | 21/04/2023 | 19:00 - 20:30 | Wiesiker Straße 2, 24848 Klein Bennebek | Anja |
| 3. | 28/04/2023 | 19:00 - 20:30 | Wiesiker Straße 2, 24848 Klein Bennebek | Anja |
| 4. | 05/05/2023 | 19:00 - 20:30 | Wiesiker Straße 2, 24848 Klein Bennebek | Anja |
| 5. | 12/05/2023 | 12:30 - 13:00 | Wiesiker Straße 2, 24848 Klein Bennebek | Anja |
| 6. | 19/05/2023 | 19:00 - 20:30 | Wiesiker Straße 2, 24848 Klein Bennebek | Anja |
* All prices including VAT