Asana intensiv Workshop mit Kay Cantu (auch live-online)
Online stream
Starts on Sunday, 02/05/2021
Price from 25.00 €
Description:
Wir laden dich ein, gemeinsam mit Kay Cantu (vorm. Hadamietz), das Leben zu feiern - auf der Matte! Es erwarten dich neue Impulse für mehr Erdung, Stabilität, Herzöffnung und Aufrichtung.
Dieser Workshop findet live-online und wenn möglich auch in Präsenz statt.
Online stream
There is an online stream available for this activity. To participate, take the following steps:
This studio uses Zoom as their streaming provider to online stream their activities. Download the according software or app to your laptop, tablet or smartphone.
The access to the online stream is available 15 minutes before the start of the activity. You can find the link for the online stream in your online profile under "My bookings". With a click on "Join online stream now" you will be forwarded to the corresponding page and you join the activity online!
Specific streaming providers, e.g. Zoom, allow participants to see each other through the video camera. If you do not want to show yourself or the personal environment, you can deactivate the camera function or cover the camera. The name you enter when you join the online meeting room will be shown to other participants. However, you can change your name at any time (e.g. only specify the initials).
Trainer :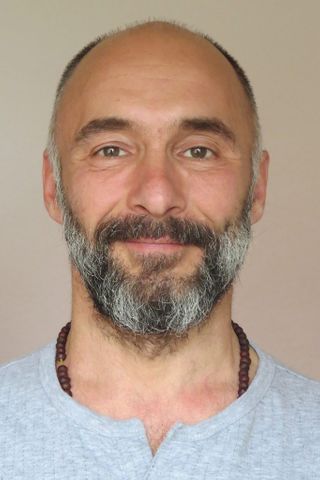 Kay
Kay hat über die Leichtathletik und Capoeira vor 15 Jahren zum Yoga gefunden. Heute tourt er für Workshops und Seminare als freiberuflicher Yoganomade durch das Land und begleitet in verschiedenen Städten Yogalehrer – und Yoga Personaltrainer Ausbildungen. Sein Unterricht fordert, motiviert, inspiriert und verdeutlicht pragmatisch den Nutzen yogischer Techniken für den Lebensalltag. Seine Maxime: "Yoga ist einfach. Löse alle Muster auf, die dich von dieser Einfachheit trennen." Mit seiner Partnerin betreut er ein Yoga Projekt in Mexiko. Stichworte: Präzision, Vielfalt, Humor, Herzöffnung, Vedanta, Meditationskursleiter, Ayurveda Gesundheitsberater, Dipl.Ing. Architektur.
Dates:
| | | | | |
| --- | --- | --- | --- | --- |
| 1. | 02/05/2021 | 18:00 - 21:00 | Klarissengasse 2, 48143 Münster | Kay |
* All prices including VAT