WORKSHOP "Yoga & gesunde Stressbewältigung"
Online stream
Starts on Saturday, 23/01/2021
Price 30.00 €
Description:
Wir alle kennen Momente, in denen wir uns gestresst fühlen. Dabei können die Auslöser ganz unterschiedlich sein. Die Folgen von Stress und Überforderung können entweder sofort auftreten in Form von Müdigkeit, Kopfschmerzen und Erkältungen, oder auch langfristig Krankheiten mit sich bringen. Wie können wir nun lernen, besser mit hektischen Zeiten umzugehen?
Unser Körper ist sehr weise und in ihm wohnt eine natürliche Fähigkeit, sich selbst wieder zu regulieren und in sein Gleichgewicht zurückzukehren. Wenn wir wissen, auf welche Weise wir diese Fähigkeit nutzen können und wie wir unseren Körper und Geist dabei unterstützen können, dann gelingt es uns, leichter mit Stress umzugehen.
Als Yogalehrerin und Coach für ganzheitliche Gesundheit schlägt Andrea´s Herz für das Konzept der ganzheitlichen Lebensweise auf allen Ebenen. In diesem Workshop wird sie ihre ganz persönlichen Erfahrungen mit dir teilen und dir Hilfsmittel an die Hand geben, mit denen du dein Stresslevel beeinflussen kannst.
In diesem Workshop wirst du erfahren ...
★ welche Prozesse in Deinem Körper ablaufen, wenn Du gestresst bist.
★ was Du aktiv tun kannst, um mit Stress im Alltag auf gesunde Weise umzugehen.
★ wie Yoga Dich in hektischen Zeiten unterstützen kann.
★ welche Rolle die Ernährung spielt und welche weiteren Faktoren entscheidend sind für eine gesunde Stressbewältigung.
Der Workshop wird abgerundet mit einer sanft fließenden, gleichzeitig entspannenden und regenerativen Yoga Einheit.
Details:
★ Dieser Workshop ist für alle Yogis geeignet, ob nun Anfänger oder mit Erfahrung.
★ Bring lege etwas zum Schreiben bereit
Ebenfalls Teilnahme mit 2 Punkten von Deiner Yogakarte möglich (in diesem Fall bitte per email anmelden! anmeldung@santosayoga.de)
Dieses Special findet online live für Dich zu Hause oder wo Du gerade Deine Matte ausrollen kannst, statt. Für die Teilnahme benötigst Du das Streaming Tool Zoom. Alle technischen Infos findest Du hier https://santosayoga.de/online-yogastunden-besuchen
Online stream
There is an online stream available for this activity. To participate, take the following steps:
This studio uses Zoom as their streaming provider to online stream their activities. Download the according software or app to your laptop, tablet or smartphone.
The access to the online stream is available 15 minutes before the start of the activity. You can find the link for the online stream in your online profile under "My bookings". With a click on "Join online stream now" you will be forwarded to the corresponding page and you join the activity online!
Specific streaming providers, e.g. Zoom, allow participants to see each other through the video camera. If you do not want to show yourself or the personal environment, you can deactivate the camera function or cover the camera. The name you enter when you join the online meeting room will be shown to other participants. However, you can change your name at any time (e.g. only specify the initials).
Teacher :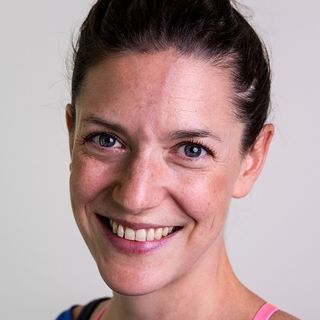 Andrea Schwarz
Dates:
| | | | | |
| --- | --- | --- | --- | --- |
| 1. | 23/01/2021 | 15:00 - 17:00 | . ., . München | Andrea Schwarz |
* All prices including VAT