Yoga Beginner WORKSHOP
Online stream
Starts on Sunday, 11/04/2021
Price from 25.00 €
Description:
Dieser Workshop richtet sich an alle, die in Yoga einsteigen möchten und bisher nicht den richtigen Zeitpunkt gefunden haben. Er ist JETZT! Hier bereitest Du Dich auf den Besuch von regulären Yoga Klassen vor. Dabei werden die wichtigsten Yogahaltungen besprochen, demonstriert und natürlich selbst geübt. Die richtige Atemtechnik und mentale Konzentration, sowie die Hintergründe zur Yoga Philosophie bringen wir Dir ebenso näher.
Dieser Workshop findet online statt. Wir haben den Ablauf extra so angepasst, dass wir Dir auch online einen guten Einstieg ins Yoga ermöglichen können: kurze Einführung in die Yogaphilosophie Atmung im Yoga Erarbeiten der wichtigsten Yoga Grundhaltungen mit Erklärung, Demonstration und gemeinsamen Üben fließende Yogapraxis mit den zuvor erlernten Grundhaltungen * geführte Entspannung & Meditation
Wenn Du mit 2 Punkten Deiner Punktekarte teilnehmen willst, melde Dich bitte per email an! anmeldung@santosayoga.de
Technische Tipps zum live Streaming findest Du hier https://santosayoga.de/online-yogastunden-besuchen
Online stream
There is an online stream available for this activity. To participate, take the following steps:
This studio uses Zoom as their streaming provider to online stream their activities. Download the according software or app to your laptop, tablet or smartphone.
The access to the online stream is available 15 minutes before the start of the activity. You can find the link for the online stream in your online profile under "My bookings". With a click on "Join online stream now" you will be forwarded to the corresponding page and you join the activity online!
Specific streaming providers, e.g. Zoom, allow participants to see each other through the video camera. If you do not want to show yourself or the personal environment, you can deactivate the camera function or cover the camera. The name you enter when you join the online meeting room will be shown to other participants. However, you can change your name at any time (e.g. only specify the initials).
Teacher :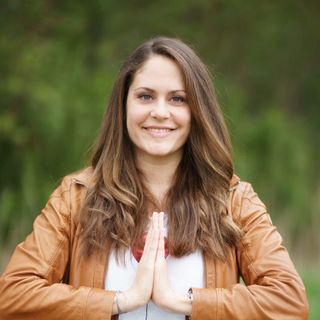 Sandra Zavaglia
"Für mich ist das schöne am Yoga, dass es nicht nur den Körper sondern auch den Geist trainiert und ebenso unsere Seele berührt." Sandra unterrichtet kräftigendes Hatha Yoga mit fließenden Vinyasa Elementen und sanften Asanas zum Ende der Stunde. Ihr ist es wichtig, dass die Asanas möglichst genau ausgeführt werden, um ihre volle Wirkung entfalten zu können. Dafür sorgt sie in ihren Yogastunden für genaue verbale Anweisungen oder Variationen.
Dates:
| | | | | |
| --- | --- | --- | --- | --- |
| 1. | 11/04/2021 | 15:00 - 17:00 | Tegernseer Landstraße 98, 81539 München | Sandra Zavaglia |
* All prices including VAT