15h Anatomy & Kinesiology with Mark Stephens (ONLINE)
Online stream
Starts on Friday, 08/04/2022
Price 300.00 €
Description:
In Yoga, we find two highly contrasting ideas about "anatomy."
The so-called "traditional yoga anatomy," described in various ancient and medieval texts and illustrations, gives us concepts that are directly linked to ideas about spiritual being and transformation: prana-vayu, gates, nadis, chakras and so forth.
The so-called "scientific anatomy," also described in ancient and medieval texts but fundamentally updated through scientific examination in the modern age, gives us concepts that described the material (physical) dimension of organic human beings: bones, muscles, blood, organs, etc.
Many people on the yoga path have attempted to integrate these two approaches, usually exhibiting great flexibility and creativity when pestered by little things called facts and beliefs, which don't always neatly align.
In teaching yoga, we aim to give our students clear and well-informed guidance. When teaching postural yoga (asanas), we're asking our students do things that might appear like circus arts or an Olympic sport – or even a "simple position" that just isn't so simple for some (or most) humans. In doing so, we're asking them to place forces ("hatha" means "forceful") in their body, ideally in a way that is with stability and ease (sthira sukham). To help ensure it is safe and sustainable, it is helpful to understand how the body optimally functions, and how it sometimes does not function so well. And in this, we can gather some rich insights from the ancient yogis and more modern spiritual warriors for whom intuition and divine influence are all one needs. Some of us wish to go further, and that brings us to scientific anatomy and physiology for yoga.
This course provides a comprehensive introduction to basic human anatomy and physiology. We begin with the big picture of whole organic human beings, and then we look more closely through the refined prisms of scientific understanding to develop our knowledge of human physical structures and their functions. We offer a very basic introduction to human physiology and then turn to a detailed introduction to the human musculoskeletal system (one of our ten major physiological systems). This brings us to the beautiful internal world of our tissues, the nature of our bones, our variety of joints and how they work (and sometimes don't work), and to our skeletal muscles.
With this basic information, we then look closely at the spine, lower extremity (from the pelvis to the toes), and upper extremity (from the shoulder girdle to the fingers). Here we look at every joint, how it is mobilized and stabilized, and how these qualities of action (kriya) appear in a wide array of asanas, thereby directly connecting the study of anatomy with our growing understanding of yoga practices and how best to teach them. In this way, we move from the abstract and theoretical to the very practical applications of anatomical knowledge in a yoga class or private session. We also do a set of observation exercises designed to build stronger bridges from what we understand to what we share with others, in a word, teaching.
Resources:
Reading: - Staugaard-Jones, chapter #
MarkStephens, Yoga Therapy, chapters 6,7, and 9 (9, not 8!)
Activity:
Looking and Seeing: Partner Observation Exercise

Refined Assessment of Tadasana, Urdhva Hastasana, and Utkatasana

Clay: Mold the Spine
Schedule:
Friday, April 8 6:00pm CET- 8:00pm CET Welcome & live practice with Mark (2 hours) (30 minute welcome + 90 minute practice)
Saturday, April 9 6:00pm - 8:30pm CET Q&A + Practice with Mark (2.5hours) (90 min practice + 60 min Q&A)
Sunday, April 10 6:00pm - 7:30pm CET Q&A (1.5 hours) (90 minute Q&A)
Urban Yoga 300h trainees, please sign up for this course via email to nell@urbanyoga.hamburg
Online stream
There is an online stream available for this activity. To participate, take the following steps:
This studio uses Zoom as their online streaming provider. Download the according app to your laptop, tablet or smartphone
Access to the online livestream is available 15 minutes before the start of the activity. Simply go to "My bookings" and click on "Join online stream now" to be redirected to the corresponding page
With some streaming providers (e.g. Zoom) it is possible for participants to see each other. However, it is theoretically possible to deactivate the camera function. The name you enter when entering the online meeting room is displayed to other participants. However, you can always change your name (e.g. only the initials). Please note: Individual rules for online participation may apply for each class or venue.
Teacher :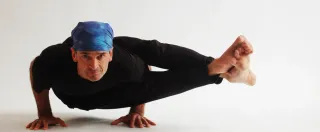 Mark Stephens
California-based yoga teacher Mark Stephens is the author of Teaching Yoga, Yoga Sequencing (unfortunately titled Yoga Workouts Gestalten in German), Yoga Adjustments, Yoga Therapy, and Yoga for Better Sleep. Practicing yoga consistently since 1991 and teaching since 1996, Mark has explored deeply in multiple styles yoga. His teaching embodies an integration of ancient to modern yoga wisdom with the insights of modern science. Learn more at www.markstephensyoga.com
Dates:
| | | | | |
| --- | --- | --- | --- | --- |
| 1. | 08/04/2022 | 18:00 - 20:00 | Bei dir zu Hause, | Mark Stephens |
| 2. | 09/04/2022 | 18:00 - 20:30 | Bei dir zu Hause, | Mark Stephens |
| 3. | 10/04/2022 | 18:00 - 19:30 | Bei dir zu Hause, | Mark Stephens |
Cancellations
Sonderveranstaltungen
Bei Sonderveranstaltungen (Workshops u.ä.) kommt ein Teilnahmevertrag durch Anmeldung des Nutzers – auch in elektronischer Form per Email - verbindlich zustande. Das Studio behält sich vor, die Sonderveranstaltung bis sieben Tage vor Durchführung der Sonderveranstaltung ohne Angabe von Gründen abzusagen. Eine spätere Absage ist unter Angabe der Gründe, beispielsweise Krankheit des Yogalehrers, möglich. Ansprüche des Nutzers wegen Absage der Sonderveranstaltung sind ausgeschlossen. Sollte eine Teilnahme an einer Sonderveranstaltung nicht möglich sein, so kann der Platz an eine andere Person übertragen werden. Hierzu bitten wir um rechtzeitige Information per Email (mindestens 24 Stunden vor Veranstaltungs-Beginn). Sollte die Sonderveranstaltung von Urban Yoga ersatzlos abgesagt werden müssen, wird die vorab geleistete Gebühr zu 100% zurückbezahlt. Weitergehende Ansprüche des Teilnehmers, insbesondere Schadensersatzansprüche wie Reise- oder Hotelkosten bei Änderungen oder Absage einer Veranstaltung, sind ausgeschlossen. Bei einer schriftlichen Stornierung (per Email/Post) bis 8 Wochen vor der Sonderveranstaltung wird die Anmeldegebühr abzüglich 15€ Bearbeitungsgebühr zurückerstattet. Stornierungen des Nutzers ab 8 Wochen bis 10 Tage vor Veranstaltungsbeginn werden mit 50 % der gebuchten Leistungen berechnet. Stornierungen innerhalb der letzten 10 Tage vor der Sonderveranstaltung werden zu 100% in Rechnung gestellt.
* All prices including VAT