Guiding the Practice mit Mark Stephens
Starts on Thursday, 09/06/2022
Price 126.00 €
Description:
Morning 09:30 to 11:30am
Taking the Seat of the Teacher & Essential Elements of Asana Practice
Lecture and conversation about what it means to teach yoga, with a focus on the role of the teacher, ethics, and essential elements of asana, including how we breathe, move, stabilize, gaze, persist, detach, align, energize, modify, support, touch, listen, and love. Related topics might be fear, amusement, courage, compassion, wonder, and calmness.
Afternoon 1:30 pm to 5:30 pm
Standing Asanas
Some say just let it feel good. Some tell you exactly what to do and how to do it. Here we will explore student-teacher dialogue, the conversation between student experience and a teacher's informed guidance, in the context of looking closely at a wide variety of standing postures. We will peer through the prisms functional anatomy, biomechanics, and kinesiology; inquire about habits and samskaras; discuss conflicting theories regarding alignment, energetic actions, and stress; and consider alternatives ways of offering verbal cues, visual demonstration, and hands-on cues.
Wann: 10.06.2022 Wo: Urban Yoga Hamburg
Preise: Tagesticket Donnerstag (6h): 126,00€ Tagesticket Freitag (6h): 126,00€ Tagesticket Samstag (7h): 147,00€ Tagesticket Sonntag (6h) : 126,00€
Gesamtticket (25 h): 499,00€
About Mark:
Mark Stephens is a devoted yoga student whose non-dogmatic approach integrates insights from vastly diverse sources found in ancient-to-modern yoga, tantra, science and philosophy. Practicing yoga for over 30 years, teaching for over 25 years, and training teachers for over 20 years, his four comprehensive yoga textbooks, Teaching Yoga (currently in revision), Yoga Sequencing, Yoga Adjustments, and Yoga Therapy, plus Yoga for Better Sleep, are available in several languages. He lives in Santa Cruz, California and teaches globally. Learn more at markstephensyoga.com.
Teacher :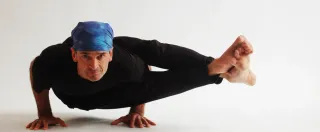 Mark Stephens
California-based yoga teacher Mark Stephens is the author of Teaching Yoga, Yoga Sequencing (unfortunately titled Yoga Workouts Gestalten in German), Yoga Adjustments, Yoga Therapy, and Yoga for Better Sleep. Practicing yoga consistently since 1991 and teaching since 1996, Mark has explored deeply in multiple styles yoga. His teaching embodies an integration of ancient to modern yoga wisdom with the insights of modern science. Learn more at www.markstephensyoga.com
Dates:
| | | | | |
| --- | --- | --- | --- | --- |
| 1. | 09/06/2022 | 09:30 - 17:30 | Rostocker Straße 4, 20099 Hamburg | Mark Stephens |
* All prices including VAT