Remixing and Refining Yoga in Practice mit Mark Stephens
Starts on Saturday, 11/06/2022
Price 110.00 €
Description:
Morning 10:00-12:00
Partner Yoga Playshop: Deepening the Joy of Self- and Other-Awareness in Connection
Our connections with others can be equally beautiful and difficult, anxious and relaxed, challenging and serendipitous. Our personal yoga practices help us in exploring and cultivating our relationships in every way. Yet we can go farther, directly connecting with someone else in yoga, attentively playing in ways that enhance the ease and joy of every shared moment. From shared breathing and gazing exercises in which the greatest risk is usually laughing out loud, to mutually supportive postures in which the dynamic of dependence-independence is refined, to practices that explore deeper sources of self-acceptance, trusting, giving, and enlivening, this session promises a refined sense of self through the prism of shared experienced with another.
Afternoon 2:00 pm to 5:00 pm
Surya Namaskara Remix and Refinement
It might sound blasphemous or pretentious, but after 100 years we can improve the basic Sun Salutations created in the early 1920s by the Krishnamacharya and Sivananda gurus. With our 100 years of accumulated experience and the insights of human sciences, there a few simple remixes and several principles rooted in biomechanics and neuroscience that can make these precious gems of yoga better for all – safer, more accessible, more sustainable, and more beneficial. In exploring the new methods and techniques for practicing and guiding Surya Namaskara A/B and Classical Surya Namaskara, we will also consider how best to guide them as students and teachers.
Wann: 10.06.2022 Wo: Urban Yoga Hamburg
Preise: Tagesticket Donnerstag (6h): 126,00€ Tagesticket Freitag (6h): 126,00€ Tagesticket Samstag (5h): 110,00€ Tagesticket Sonntag (6h) : 126,00€
Gesamtticket (25 h): 499,00€
About Mark: Mark Stephens is a devoted yoga student whose non-dogmatic approach integrates insights from vastly diverse sources found in ancient-to-modern yoga, tantra, science and philosophy. Practicing yoga for over 30 years, teaching for over 25 years, and training teachers for over 20 years, his four comprehensive yoga textbooks, Teaching Yoga (currently in revision), Yoga Sequencing, Yoga Adjustments, and Yoga Therapy, plus Yoga for Better Sleep, are available in several languages. He lives in Santa Cruz, California and teaches globally. Learn more at markstephensyoga.com
Teacher :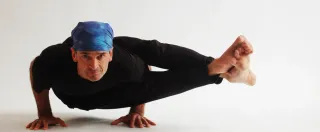 Mark Stephens
California-based yoga teacher Mark Stephens is the author of Teaching Yoga, Yoga Sequencing (unfortunately titled Yoga Workouts Gestalten in German), Yoga Adjustments, Yoga Therapy, and Yoga for Better Sleep. Practicing yoga consistently since 1991 and teaching since 1996, Mark has explored deeply in multiple styles yoga. His teaching embodies an integration of ancient to modern yoga wisdom with the insights of modern science. Learn more at www.markstephensyoga.com
Dates:
| | | | | |
| --- | --- | --- | --- | --- |
| 1. | 11/06/2022 | 10:00 - 17:00 | Rostocker Straße 4, 20099 Hamburg | Mark Stephens |
* All prices including VAT