Asana, Pranayama & Guru-Free Satsang mit Mark Stephens
Starts on Sunday, 12/06/2022
Price 126.00 €
Description:
Morning: 8:00 am to 10:00 am
Asana, Pranayama, Meditation: An Integrated Yoga-Tantra Practice This mixed-level class with soft guidance will encourage playful and joyful exploration. First, we will sit, breathe, visualize, and set clear personal intention. Second, we will explore a gradually deepening array of asanas (standing, core, arm support, backbends, twists, seated and supine forward bends and hip openers, and inversions) in a flow-style practice with many options for different conditions and intentions. Third, we will rest, then breathe to simplify everything, and then sit a little more. If there's interest, we'll sing.
Afternoon: 1:00 pm to 5:00 pm
Guru-Free Satsang: Gathering Together for Truth
The English term "conversation" is rooted in Latin, conversari, "to keep company with" and "to turn," with similar translations in German and French. It implies an exchange of ideas, some of which might be contrary, but as the German sich unterhalten suggests, there's a friendly mood, "to enjoy oneself," "to have a good time." At a time of great conflict among friends, family, villages, regions and nations, we and need more conversations. In the spirit of the Sanskrit satya, "truth," we will gather to converse about a variety of topics that matter in practicing and teaching yoga, such as the nature of fascia, the vagus nerve, the brain's default mode and salience networks, yoga therapy, psychedelics, science, mysticism, mythology, and whatever interests you in relation to yoga.
Mark Stephens is a devoted yoga student whose non-dogmatic approach integrates insights from vastly diverse sources found in ancient-to-modern yoga, tantra, science and philosophy. Practicing yoga for over 30 years, teaching for over 25 years, and training teachers for over 20 years, his four comprehensive yoga textbooks, Teaching Yoga (currently in revision), Yoga Sequencing, Yoga Adjustments, and Yoga Therapy, plus Yoga for Better Sleep, are available in several languages. He lives in Santa Cruz, California and teaches globally. Learn more at markstephensyoga.com.
Teacher :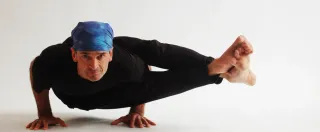 Mark Stephens
California-based yoga teacher Mark Stephens is the author of Teaching Yoga, Yoga Sequencing (unfortunately titled Yoga Workouts Gestalten in German), Yoga Adjustments, Yoga Therapy, and Yoga for Better Sleep. Practicing yoga consistently since 1991 and teaching since 1996, Mark has explored deeply in multiple styles yoga. His teaching embodies an integration of ancient to modern yoga wisdom with the insights of modern science. Learn more at www.markstephensyoga.com
Dates:
| | | | | |
| --- | --- | --- | --- | --- |
| 1. | 12/06/2022 | 08:00 - 17:00 | Rostocker Straße 4, 20099 Hamburg | Mark Stephens |
* All prices including VAT