30 Tage Challenge- Joyful June
Online stream
Starts on Wednesday, 01/06/2022
Price 65.00 €
Description:
Joyful June
⁠ - Du hast im Laufe des bisherigen Jahres deine guten Vorsätze 'verloren'? - Du möchtest deine tägliche Yogapraxis (re)installieren? ⁠
⁠Dann mach mit bei unserer 30 Tage Yoga Challenge, die am 1. Juni 22 startet!⁠
⁠ Wir möchten nämlich gerne wieder 30 Tage lang mit dir gemeinsam Yoga machen! ⁠ Dafür nehmen wir uns den kompletten Juni Zeit, starten so mit dir in die zweite Jahreshälfte und geben dir Halt und Motivation.
Ab 1. Juni findest du jeden Tag ein Video in unserer Mediathek, welches unsere Lehrer:innen speziell für diese neue 30 Tage Challenge aufgenommen haben. Die Videos haben etwa die Länge von 30 Minuten - perfekt um Sie in deinen Alltag zu integrieren. ⁠ ⁠ Du kannst die Tickets hierfür einzeln für je 5€ kaufen, oder du entscheidest dich für unseren 30 Tages Challenge Pass. Dieser kostet 65€.⁠ Wenn du alle 30 Tage alle Klassen 'mityogst', gibt es den Juli unlimited (on/offline) for free !! Deal?!⁠ ⁠ Machst du mit bei unserem Joyful June? ⁠Es lohnt sich auch noch später einzusteigen! Mach mit und lass dich in einer täglichen Praxis bewegen!
1. Einfach Sein mit Nell (all day)
2. Fließe wie eine Welle mit Svetlana (all day)
3. Selbstliebe Slow Flow mit Anica (abends)
4. After Work Energizing Flow mit Carli (abends)
5. Sound Bath Meditation mit Janina (abends)
6. Feel Good Flow mit Sarah S. (all day)
7. Schwimmender Delphin mit Julia (all day)
8. Stärke deinen unteren Rücken mit Jutta (all day)
9. After Work Flow mit Felicitas (abends)
10. Ruhe und Fokus Flow mit Caro (abends)
11. Powerful Hamstrings mit Karo (all day)
12. Joyful Jivamukti Morning Flow mit Anne-Katrin (morgens)
13. Restorative Yoga - Vayus mit Karo (abends)
14. Colorful Morning Flow mit Anica (morgens)
15. Happy Hips mit Svetlana (all day)
16. Prana Flow Nell (all day)
17. Kraftvoller Flow Maria (all day)
18. Quick Sound Bath Meditation mit Janina (abends)
19. Lower Body Flow mit Carli (all day)
20. Lean back mit Nell (all day)
21. Learn to fly mit Natalia (all day)
22. Energizing Morning Flow mit David (morgens)
23. Restorative Yoga - Gefühle annehmen, loslassen mit Karo (abends)
24. Ladder Flow mit Julia (all day)
25. Move with Love mit Maria (all day)
26. Rest & Restore mit Nell (all day)
27. Schöne und starke Schultern mit Caro
28. Quick Yin Yoga für die Hüfte mit David (all day)
29. Be Here, Be Now mit Sarah S. (all day)
30. Sun Salutations mit Nell
Online stream
There is an online stream available for this activity. To participate, take the following steps:
This studio uses Zoom as their online streaming provider. Download the according app to your laptop, tablet or smartphone
Access to the online livestream is available 15 minutes before the start of the activity. Simply go to "My bookings" and click on "Join online stream now" to be redirected to the corresponding page
With some streaming providers (e.g. Zoom) it is possible for participants to see each other. However, it is theoretically possible to deactivate the camera function. The name you enter when entering the online meeting room is displayed to other participants. However, you can always change your name (e.g. only the initials). Please note: Individual rules for online participation may apply for each class or venue.
Teacher :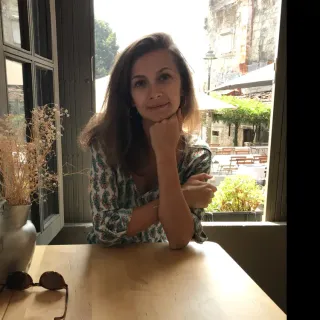 Nell
Svetlana
Svetlanas Yogaunterricht ist kraftvoll, kreativ und energetisierend zugleich. Ihre Schüler können sich in mit dem Geist und Körper komplett in Ihre Stunden reinlassen. Ihr Ziel ist mutig und neugierig zu bleiben, auf die Ausrichtung zu achten und viel Spaß dabei zu haben. ⁠Ausbildung (200) 2022 – 200h Teacher Training (AYA), Urban Yoga Hamburg Derzeit – 300h Teacher Training (AYA), Urban Yoga Hamburg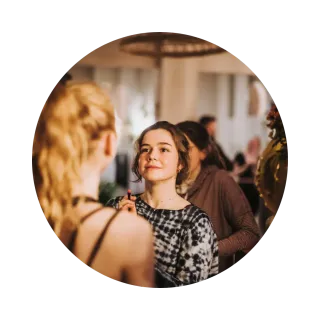 Anica
Carli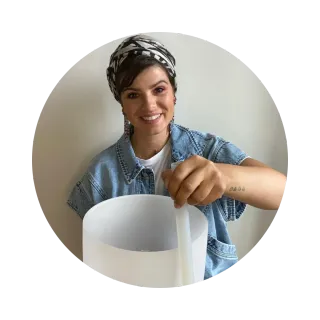 Janina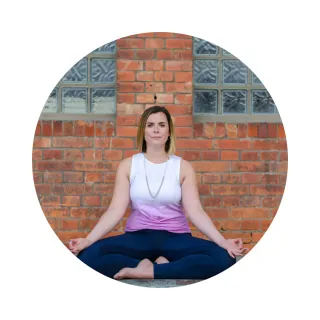 Sarah S.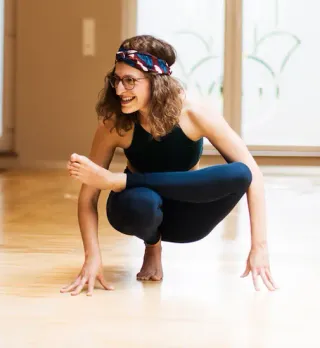 Julia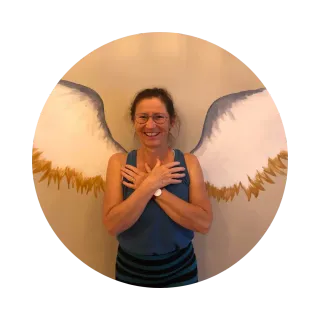 Jutta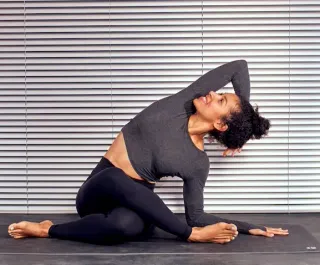 Felicitas
Carolin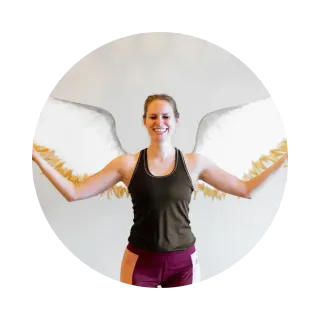 Karo
Maria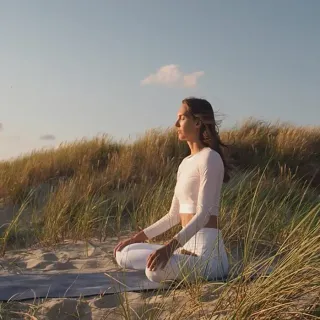 Natalia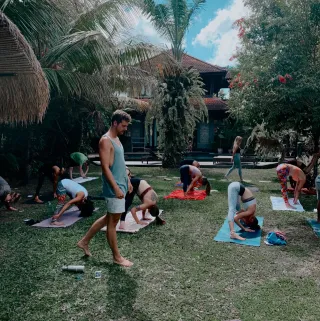 David
Dates:
| | | | | |
| --- | --- | --- | --- | --- |
| 1. | 01/06/2022 | 00:00 - 23:59 | Bei dir zu Hause, | Nell |
| 2. | 02/06/2022 | 00:00 - 23:59 | Bei dir zu Hause, | Svetlana |
| 3. | 03/06/2022 | 00:00 - 23:59 | Bei dir zu Hause, | Anica |
| 4. | 04/06/2022 | 00:00 - 23:59 | Bei dir zu Hause, | Carli |
| 5. | 05/06/2022 | 00:00 - 23:59 | Bei dir zu Hause, | Janina |
| 6. | 06/06/2022 | 00:00 - 23:59 | Bei dir zu Hause, | Sarah S. |
| 7. | 07/06/2022 | 00:00 - 23:59 | Bei dir zu Hause, | Julia |
| 8. | 08/06/2022 | 00:00 - 23:59 | Bei dir zu Hause, | Jutta |
| 9. | 09/06/2022 | 00:00 - 23:59 | Bei dir zu Hause, | Felicitas |
| 10. | 10/06/2022 | 00:00 - 23:59 | null , null null | Carolin |
* All prices including VAT