online Lachurlaub- Lachyoga mit Astrid - kostenfreies Angebot
Online stream
Starts on Thursday, 10/11/2022
Price
Description:
online treffen und herzhaft lachen! Für dieses kostenfreie Angebot schalte bitte auf jeden Fall dein Bild ein. Wir treffen uns nur mit Bild und Ton.
In dieser Lachyogaeinheit beschäftigen wir uns mit dem Thema Urlaub. Meine Idee ist hierzu, dass wir nicht unbedingt jedes Mal tatsächlich in den Urlaub fahren müssen, um durchatmen zu können.
Bist du neugierig? Vielleicht kennst du Lachyoga noch gar nicht? Melde dich gerne an.
Als Pranayama lachen wir ausgiebig. Dies ist zunächst ein gespieltes Lachen doch hieraus kann in der Gruppe ein echtes herzhaftes Lachen werden. Und du erlebst eine Lachmeditation, um aus dem Kopf in den Körper zu kommen....Dies räumt den Kopf leer....der Stress der Woche kann abgebaut werden. Die Session wird mit einer Entspannungsübung beendet um sich wieder zu erden und um bei sich anzukommen.
Online stream
There is an online stream available for this activity. To participate, take the following steps:
This studio uses Zoom as their online streaming provider. Download the according app to your laptop, tablet or smartphone
Access to the online livestream is available 15 minutes before the start of the activity. Simply go to "My bookings" and click on "Join online stream now" to be redirected to the corresponding page
With some streaming providers (e.g. Zoom) it is possible for participants to see each other. However, it is theoretically possible to deactivate the camera function. The name you enter when entering the online meeting room is displayed to other participants. However, you can always change your name (e.g. only the initials). Please note: Individual rules for online participation may apply for each class or venue.
Trainer :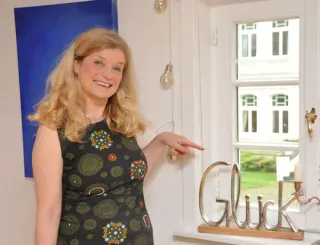 Astrid
Durch Yoga und Meditation habe ich mich mit meinem Körpergefühl und mit meinen Herzenswünschen verbunden. 2012 - 2015 habe ich nebenberuflich eine dreijährige Kunsttherapeuten-Ausbildung absolviert. Hierdurch habe ich mich weiter für die Lebensfreude entschieden mit Fortbildungen in Clownerie und Lachyoga. Lachyoga ist für mich ein wesentlicher Schlüssel zum Glück. Heute habe ich eine kleine Yogaschule in Hamm und unterrichte mit Begeisterung Yoga und Lachyoga. Auch künstlerische Angebote kannst du an der Yogaschule erleben, da ich gerne male und kreativ bin. Be happy!
Dates:
| | | | | |
| --- | --- | --- | --- | --- |
| 1. | 10/11/2022 | 20:00 - 20:30 | Drei-Eichen-Weg 15, 59069 Hamm | Astrid |
| 2. | 24/11/2022 | 20:00 - 20:30 | Drei-Eichen-Weg 15, 59069 Hamm | Astrid |
| 3. | 08/12/2022 | 20:00 - 20:30 | Drei-Eichen-Weg 15, 59069 Hamm | Astrid |
| 4. | 05/01/2023 | 20:00 - 20:30 | Drei-Eichen-Weg 15, 59069 Hamm | Astrid |
* All prices including VAT