The STUDIO @ Studio Genesis
Starts on Thursday, 21/07/2022
Price
Description:
Yoga @ Studio Genesis mit Dr. Alexandra Kleiner
GENESIS STUDIO MÜNCHEN - Theatinerstraße 42, 80333 München ab 21. Juli 2022 9:00 - 9:45 Uhr
The STUDIO meets GENESIS Motor Deutschland GmbH Yoga meets mobility, dynamic and sustainability from a different perspective.
GENESIS GOOD MORNING YOGA mit Dr. Alex Kleiner The STUDIO I Yoga Munich. Die Automarke GENESIS steht für Sportlichkeit, Dynamik und puren progressiven Fahrspaß.
GENESIS: ELEKTRIFIZIERENDE TECHNOLOGIE – IMMER EINEN SCHRITT VORAUS.
Yoga in einer exklusiven Location in der Münchner Innenstadt, immer einen Schritt voraus – gemeinsam in Bewegung!
Ab dem 21. Juli 2022 gibt Dr. Alex Kleiner, Yogatrainerin und Gründerin von THE STUDIO YOGA I Munich immer am Donnerstag um 9 Uhr eine exklusive Yoga-Session im hippen GENESIS STUDIO. So könnt Ihr neue Energie tanken, Mobilität fördern, anschließend einen Smoothie genießen und dynamisch in den Tag starten.
Let´s move, meditate & celebrate summer beim GOOD MORNING YOGA im STUDIO GENSESIS.
21.07.2022: von 09:00 bis 09:45 Uhr 01.09.2022: von 09:00 bis 09:45 Uhr 15.09. 2022: von 09:00 bis 09:45 Uhr
Danach im 2-Wochen Takt, die aktuellen Termine findet Ihr immer hier. Viel Spaß!
Teacher :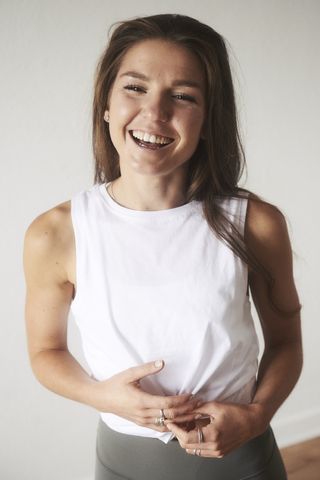 Franzi Wagner
Dates:
| | | | | |
| --- | --- | --- | --- | --- |
| 1. | 21/07/2022 | 09:00 - 09:45 | Theatinerstraße 42, 80333 München | Franzi Wagner |
| 2. | 01/09/2022 | 09:00 - 09:45 | Theatinerstraße 42, 80333 München | Franzi Wagner |
| 3. | 15/09/2022 | 09:00 - 09:45 | Theatinerstraße 42, 80333 München | Franzi Wagner |
| 4. | 29/09/2022 | 09:00 - 09:45 | Theatinerstraße 42, 80333 München | Franzi Wagner |
| 5. | 13/10/2022 | 09:00 - 09:45 | Theatinerstraße 42, 80333 München | Franzi Wagner |
| 6. | 27/10/2022 | 09:00 - 09:45 | Theatinerstraße 42, 80333 München | Franzi Wagner |
| 7. | 10/11/2022 | 09:00 - 09:45 | Theatinerstraße 42, 80333 München | Franzi Wagner |
| 8. | 24/11/2022 | 09:00 - 09:45 | Theatinerstraße 42, 80333 München | Franzi Wagner |
| 9. | 08/12/2022 | 09:00 - 09:45 | Theatinerstraße 42, 80333 München | Franzi Wagner |
| 10. | 22/12/2022 | 09:00 - 09:45 | Theatinerstraße 42, 80333 München | Franzi Wagner |
* All prices including VAT