Vertikalseil Workshop mit Petra
Starts on Saturday, 24/11/2018
Description:
Wieviele Möglichkeiten gibt es für das Auf und Ab am Seil? Wir üben und erforschen die Bewegung am und mit dem Vertikalseil. Wir erkunden den Raum zwischen 'oben' und 'unten' mit dem Fokus, Tricks in Körpersprache zu übersetzen. Technik und "Tricks" werden wir organisch miteinander und ineinander verbinden. Übergänge werden interessant und Bewegung wird zu einer sinnlichen Ausdrucksform.
Dauer: 2,5 Stunden
Level: ab Beginner/Intermediate (Grund-Kenntnisse am Seil / Tuch)
Preise: 40 €, Early Bird bis 10.11.2018 36 € IVA Vertragsinhaber: 36 €, Early Bird 33 €
Über Petra: www.rope-petra.de
www.vimeo.com/petralange
---
How many possibilities are there for the ups and downs on rope? We practice and explore moving on and with aerial rope. Moving through space between "up there" and "down here", the focus is to translate tricks into physical language. We will connect technical moves organically. Transitions become interesting, and movement will become a sensual form of expression.
Duration: 2,5 hours
Level: from Beg/Intermediate (requires a good physical fitness and basic knowledge on rope / silk)
Pice: 40 €, Early Bird until 10.11.2018: 33 € with IVA contract: 36 €, Early Bird: 33 €
About Petra: www.rope-petra.de
www.vimeo.com/petralange
Trainer :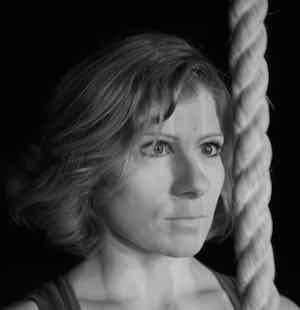 Petra
Das Turnen war für Petra 15 Jahre lang nur ein Hobby. Die Artistik entdeckte sie fast nebenbei 1998 in London – seitdem ist sie Vertikalseil- und Handstand-Artistin aus Leidenschaft. Seit ihrer Ausbildung im National Centre for Circus Arts in London performte sie 20 Jahre lang international für Companies wie "Cirque Eloize", in vielen Varietés von GOP bis Tigerpalast, auf Firmenveranstaltungen, Kreuzfahrtschiffen und Festivals von den USA bis Japan. Seit fünf Jahren arbeitet Petra außerdem als Yogalehrerin.
Dates:
| | | | | |
| --- | --- | --- | --- | --- |
| 1. | 24/11/2018 | 14:30 - 17:00 | Mittenwalder Str. 6, 10961 Berlin | Petra |
* All prices including VAT