"Let's Dance" Weekend w. Tony Stone (live!)
Online stream
Starts on Saturday, 09/05/2020
Price from 12.00 €
Description:
[ Both special classes are held in English. ]
---
"Let's Dance" Weekend with Tony Stone (USA)
The one and only Tony Stone (USA) is going to give exclusive LIVE Online Classes for you to enjoy in your homes:
Select one or both classes and book now :
SATURDAY, 9th MAY @ 19:00 CET* The 'DanceGLAM Experience' is the brand new dance fitness program class created by Tony Stone which will appeal to those that enjoy easy to learn movement based on urban styles such as street jazz, old school, dancehall, urban commercial and house dance.
SUNDAY, 10th MAY @ 19:00 CET* Tony will be doing urban commercial hip hop choreo performed to a hot R&B or pop music track. Come celebrate the music, the movement and the fact that we are able to escape through dance. I'm looking forward to sharing some Sunday Fun-day dance love with you.
Dance like nobody is watching & Feel the vibes in your livingroom!
---
*World-Timezones:
10am L.A. | 1pm NY | 6pm UK | 7pm EUROPE | 8pm MOSCOW
-
50min. each class | 12€ single ticket | 20€ both classes
Online stream
There is an online stream available for this activity. To participate, take the following steps:
This studio uses YouTube Live as their streaming provider to online stream their activities. Download the according software or app to your laptop, tablet or smartphone.
The access to the online stream is available 15 minutes before the start of the activity. You can find the link for the online stream in your online profile under "My bookings / Activities". With a click on "Go to online stream now" you will be forwarded to the corresponding page and you join the activity online!
Trainer :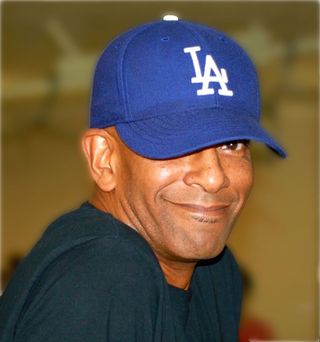 Tony Stone
Tony Stone worked with artist such as Salt N' Pepa, Falco, Diana Ross, LL Cool J, Beyoncé, Lutricia McNeal, Kelis as well as a Michael Jackson Tribute held in Hollywood. He choreographed the new theater show iDentiD, and created a brand new dance fitness program called DanceGLAM by DanzFit Nation. Tony also teaches all over the world, incl. NY, Las Vegas, Miami, Hong Kong...
Dates:
| | | | | |
| --- | --- | --- | --- | --- |
| 1. | 09/05/2020 | 19:00 - 20:00 | Bergmannstraße 22, 80339 München | Tony Stone |
| 2. | 10/05/2020 | 19:00 - 20:00 | Bergmannstraße 22, 80339 München | Tony Stone |
Cancelations
Cancellation for classes is free of cost up to 1h before streaming. We kindly ask for your understanding that later cancellations – especially – once the link is active cannot be made.
---
15min. before class starts you will recieve an Email with the direct link to your LIVE STREAM.
The live stream uses YouTube Live. You don't need any other app! Once you see the "Live! with Tony Stone" Start-Screen, you are good to go!
* All prices including VAT