Schwangerschaftsyoga am Morgen (STUDIO&ONLINE)
Online stream
Starts on Thursday, 05/01/2023
Price 99.00 €
Description:
Die speziell auf die Schwangerschaft abgestimmten Yogahaltungen strecken und stärken die Muskulatur und können Schwangerschaftsbeschwerden lindern. Atem- und Entspannungsübungen entlasten körperlich und haben harmonisierende und nervenstärkende Wirkung. Die werdende Mama findet Ruhe für den Kontakt zu sich und ihrem Kind.
Du kannst sowohl im Studio teilnehmen, als auch online.
Von einer versäumten Stunde kannst du die Live Aufzeichnung der Stunde nach Hause bekommen und die Stunde so nachholen. Solltest Du während einem laufendem Kurs frühzeitig entbinden, kann die verpasste Einheit bei Buchung eines Mami-Baby Yoga Kurses verrechnet werden.
Geeignet aber der 12 SSW.
Online stream
There is an online stream available for this activity. To participate, take the following steps:
Make sure to read the description of your booked activity in advance to know which streaming provider your studio. Download the necessary app to your laptop, tablet or smartphone
Access to the online livestream is available 15 minutes before the start of the activity. Simply go to "My bookings" and click on "Join online stream now" to be redirected to the corresponding page
With some streaming providers (e.g. Zoom) it is possible for participants to see each other. However, it is theoretically possible to deactivate the camera function. The name you enter when entering the online meeting room is displayed to other participants. However, you can always change your name (e.g. only the initials). Please note: Individual rules for online participation may apply for each class or venue.
Trainer :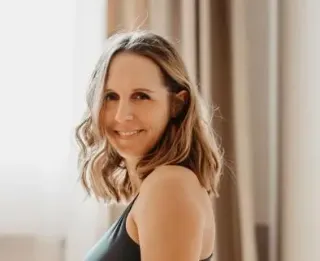 Anne
Dates:
| | | | | |
| --- | --- | --- | --- | --- |
| 1. | 05/01/2023 | 10:00 - 11:00 | Landsberger Straße 511 (Eingang über Bäckerstrasse), 81241 München | Anne |
| 2. | 12/01/2023 | 10:00 - 11:00 | Landsberger Straße 511 (Eingang über Bäckerstrasse), 81241 München | Anne |
| 3. | 19/01/2023 | 10:00 - 11:00 | Landsberger Straße 511 (Eingang über Bäckerstrasse), 81241 München | Anne |
| 4. | 26/01/2023 | 10:00 - 11:00 | Landsberger Straße 511 (Eingang über Bäckerstrasse), 81241 München | Anne |
| 5. | 02/02/2023 | 10:00 - 11:00 | Landsberger Straße 511 (Eingang über Bäckerstrasse), 81241 München | Anne |
* All prices including VAT