Chakra Gesamtpaket "3 für 2"
Online stream
Starts on Monday, 11/01/2021
Price from 149.00 €
Description:
Du erhältst Zugriff auf alle 3 wöchentlichen Kurse. Chakra Meditationen mit Lena | Mo 20-21 Uhr Chakra Yin Yoga mit Vanessa | Do 19-20 Uhr Chakra Hatha Yoga mit Andrea | Fr 17-18 Uhr
Für Einsteiger und Fortgeschrittene
Online stream
There is an online stream available for this activity. To participate, take the following steps:
This studio uses Zoom as their streaming provider to online stream their activities. Download the according software or app to your laptop, tablet or smartphone.
The access to the online stream is available 15 minutes before the start of the activity. You can find the link for the online stream in your online profile under "My bookings". With a click on "Join online stream now" you will be forwarded to the corresponding page and you join the activity online!
Specific streaming providers, e.g. Zoom, allow participants to see each other through the video camera. If you do not want to show yourself or the personal environment, you can deactivate the camera function or cover the camera. The name you enter when you join the online meeting room will be shown to other participants. However, you can change your name at any time (e.g. only specify the initials).
Trainer :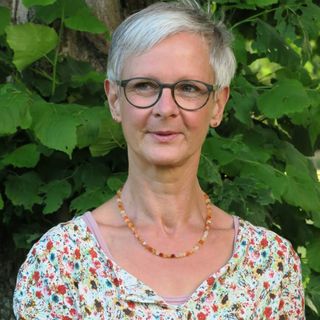 Andrea
Andrea Röttig ist seit 2009 Yogalehrerin mit Krankenkassenzulassung. Sie sagt selbst: Yoga ist für mich ein Weg, um den eigenen Körper und die eigenen Rhythmen (Atem-, Bewegung- Lebensrhythmus) wahrzunehmen und in Einklang zu bringen. Yoga hilft mir, meine Sinne zur Ruhe kommen zu lassen, das Leben zu entschleunigen, Wichtiges von Unwichtigem zu unterscheiden. Yoga lässt mich bei mir ankommen, im Moment sein und in Achtsamkeit und Liebe zu den Menschen und der Natur leben.
Dates:
| | | | | |
| --- | --- | --- | --- | --- |
| 1. | 11/01/2021 | 20:00 - 21:00 | Mittlerer Watzenbach 12, 07318 Saalfeld/Saale | Lena |
| 2. | 14/01/2021 | 19:00 - 20:00 | Mittlerer Watzenbach 12, 07318 Saalfeld/Saale | Vanessa |
| 3. | 15/01/2021 | 17:00 - 18:00 | Mittlerer Watzenbach 12, 07318 Saalfeld/Saale | Andrea |
| 4. | 18/01/2021 | 20:00 - 21:00 | Mittlerer Watzenbach 12, 07318 Saalfeld/Saale | Lena |
| 5. | 21/01/2021 | 19:00 - 20:00 | Mittlerer Watzenbach 12, 07318 Saalfeld/Saale | Vanessa |
| 6. | 22/01/2021 | 17:00 - 18:00 | Mittlerer Watzenbach 12, 07318 Saalfeld/Saale | Andrea |
| 7. | 25/01/2021 | 20:00 - 21:00 | Mittlerer Watzenbach 12, 07318 Saalfeld/Saale | Lena |
| 8. | 28/01/2021 | 19:00 - 20:00 | Mittlerer Watzenbach 12, 07318 Saalfeld/Saale | Vanessa |
| 9. | 29/01/2021 | 17:00 - 18:00 | Mittlerer Watzenbach 12, 07318 Saalfeld/Saale | Andrea |
| 10. | 01/02/2021 | 20:00 - 21:00 | Mittlerer Watzenbach 12, 07318 Saalfeld/Saale | Lena |
* All prices including VAT