Online - Faszien Yoga Kurs (6 Wochen)
Online stream
Starts on Saturday, 19/06/2021
Price 69.00 €
Description:
Eine Sehne spricht auf ein völlig anderes Training an als das muskuläre Bindegewebe. Daher sind unterschiedliche Bewegungsimpulse im Yoga Unterricht wichtig um Deinen Körper als Ganzes zu stärken. In diesem 6 Wochen Faszien Yoga Kurs, der live und Online jeweils Samstags von 9:00 - 10:00 Uhr stattfindet, hast Du die Möglichkeit Deine Gelenke zu mobilisieren, tiefsitzende Blockaden zu lösen und Deinen Körper neu auszurichten. Eine gesunde äußere Ausrichtung verbessert die innere Haltung zu uns Selbst. Im Anschluss an jede Stunde erhälst Du eine Aufzeichnung, die Dir unbegrenzt zur Verfügung steht. Solltest Du also einmal verhindert sein, kannst Du die Stunde bequem nachholen.
Online stream
There is an online stream available for this activity. To participate, take the following steps:
Make sure to read the description of your booked activity in advance to know which streaming provider your studio uses for online streaming. Commonly used tools are e.g. Zoom, Youtube Live, Skype, Hangouts, etc. If necessary, download the necessary software or app to your laptop, tablet or smartphone
The access to the online stream is available 15 minutes before the start of the activity. You can find the link for the online stream in your online profile under "My bookings". With a click on "Join online stream now" you will be forwarded to the corresponding page and you join the activity online!
Specific streaming providers, e.g. Zoom, allow participants to see each other through the video camera. If you do not want to show yourself or the personal environment, you can deactivate the camera function or cover the camera. The name you enter when you join the online meeting room will be shown to other participants. However, you can change your name at any time (e.g. only specify the initials).
Trainer :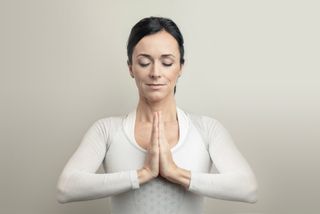 Sandra
Dates:
| | | | | |
| --- | --- | --- | --- | --- |
| 1. | 19/06/2021 | 09:00 - 10:00 | Hohenzollernring 4, 63739 Aschaffenburg | Sandra |
| 2. | 26/06/2021 | 09:00 - 10:00 | Hohenzollernring 4, 63739 Aschaffenburg | Sandra |
| 3. | 03/07/2021 | 09:00 - 10:00 | Hohenzollernring 4, 63739 Aschaffenburg | Sandra |
| 4. | 10/07/2021 | 09:00 - 10:00 | Hohenzollernring 4, 63739 Aschaffenburg | Sandra |
| 5. | 17/07/2021 | 09:00 - 10:00 | Hohenzollernring 4, 63739 Aschaffenburg | Sandra |
| 6. | 24/07/2021 | 09:00 - 10:00 | Hohenzollernring 4, 63739 Aschaffenburg | Sandra |
* All prices including VAT