Deine Selfcare-Shorties als Paket
Online stream
Starts on Monday, 01/03/2021
Price 59.00 €
Description:
In diesem Selfcare-Paket wirst Du den ganzen März unter der Woche täglich mit Meditationen sowie kleineren Einheiten bewegter Yoga- und Atem-Praxis unterstützt. Es enthält 23 Live-Sessions und so viele Video-Sessions, wie Du nur möchtest. Außerdem erhältst Du per Email einmal pro Woche sonntags eine Übung aus der Positiven Psychologie, die Dir hilft, bei einem positiven Mindset zu bleiben. Ich unterstütze Dich mit diesen kleinen Übungen, so dass Du zu Ausgeglichenheit, Beweglichkeit und Entspannung kommst. Das ideals Programm für in der Fastenzeit. Den exakten Plan kannst Du Dir auf meiner Homepage runterladen. https://www.yourtimeout.de/angebot/themen-und-specials/
On top: Gehörst Du zu den ersten 10 Buchern erhältst Du sogar für die Dauer des Pakets (01.-31.03.) ein Dankbarkeits-Tagebuch als PDF zugeschickt, in das Du Deine täglichen Eintragungen und Erfahrungen vornehmen kannst.
Early-Bird-Tarif für Buchungen bis zum 21.02.2021: 49 € inkl. Video-Flatrate Regulär-Tarif für Buchungen ab dem 22.02.2021: 55 € inkl. Video-Flatrate.
Online stream
There is an online stream available for this activity. To participate, take the following steps:
This studio uses Zoom as their streaming provider to online stream their activities. Download the according software or app to your laptop, tablet or smartphone.
The access to the online stream is available 15 minutes before the start of the activity. You can find the link for the online stream in your online profile under "My bookings". With a click on "Join online stream now" you will be forwarded to the corresponding page and you join the activity online!
Specific streaming providers, e.g. Zoom, allow participants to see each other through the video camera. If you do not want to show yourself or the personal environment, you can deactivate the camera function or cover the camera. The name you enter when you join the online meeting room will be shown to other participants. However, you can change your name at any time (e.g. only specify the initials).
Teacher :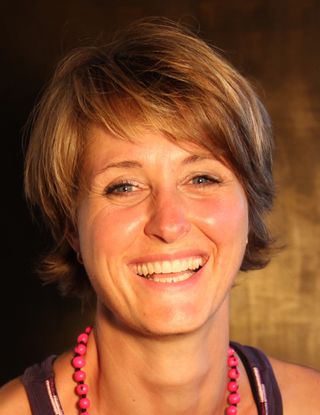 Claudia
Schon als Teenager kam ich mit Yoga in Berührung und war sofort Feuer und Flamme. Zunächst wurde ich vor allem von der körperlichen Wirkung von Yoga überzeugt. Verspannungen und Rückenschmerzen lösten sich und ich fand einen Weg mich körperlich fit zu halten. Über die Jahre wurde ich von zahlreichen Yoga-Stilen, wie dem klassischen Hatha-Yoga, Power Yoga, Vinyasa Flow, Bikram-, Yin-, Anusara Yoga ... inspiriert. Je tiefer meine Einblicke wurden, desto mehr faszinierte mich auch die entspannende Wirkung, die Yoga auf meinen Geist hatte. Eines Tages entstand das Bedürfnis, diese Erfahrungen zu teilen.
Dates:
| | | | | |
| --- | --- | --- | --- | --- |
| 1. | 01/03/2021 | 08:00 - 08:15 | Zoom-Meeting 1, 85635 Höhenkirchen | Claudia |
| 2. | 02/03/2021 | 08:00 - 08:20 | Zoom-Meeting 1, 85635 Höhenkirchen | Claudia |
| 3. | 03/03/2021 | 21:50 - 22:05 | Zoom-Meeting 1, 85635 Höhenkirchen | Claudia |
| 4. | 04/03/2021 | 08:00 - 08:20 | Zoom-Meeting 1, 85635 Höhenkirchen | Claudia |
| 5. | 05/03/2021 | 08:30 - 09:00 | Zoom-Meeting 1, 85635 Höhenkirchen | Claudia |
| 6. | 08/03/2021 | 08:00 - 08:15 | Zoom-Meeting 1, 85635 Höhenkirchen | Claudia |
| 7. | 09/03/2021 | 08:00 - 08:20 | Zoom-Meeting 1, 85635 Höhenkirchen | Claudia |
| 8. | 10/03/2021 | 21:50 - 22:05 | Zoom-Meeting 1, 85635 Höhenkirchen | Claudia |
| 9. | 11/03/2021 | 08:00 - 08:20 | Zoom-Meeting 1, 85635 Höhenkirchen | Claudia |
| 10. | 12/03/2021 | 08:30 - 09:00 | Zoom-Meeting 1, 85635 Höhenkirchen | Claudia |
* All prices including VAT