ONLINE-Kursreihe: "Yin Yoga & Essential Oils - Harmonie und Wohlbefinden" mit Geraldine
Online stream
Starts on Tuesday, 16/03/2021
Price 39.00 €
Description:
Yin Yoga & Essential Oils - Harmonie und Wohlbefinden
4-wöchige Kursreihe vom 16.03. bis 06.04.2021 | Immer Donnerstags 18:00 bis 19:15 Uhr
'Der Rhythmus des Körpers, die Melodie des Geistes und die Harmonie der Seele schaffen die Symphonie des Lebens.'
(B.K.S. Iyengar)
In dieser Kursreihe fokussieren wir uns jede Woche auf ein bestimmtes Thema. Dazu kombinieren wir Yin Yoga Haltungen mit ausgewählten ätherischen Ölen um Körper und Geist auszugleichen. Ruhige passive Haltungen und das Aroma der Pflanzenessenzen können uns auf der körperlichen, emotionalen und mentalen Ebene gleichermaßen unterstützen. Mit den Ölen tauchen wir in die Aromatherapie ein und mit der Yoga Praxis bearbeiten wir die Faszien bzw. unsere tiefer liegenden Gewebsschichten. Dies aktiviert den Energiefluss, entstresst Dich und sorgt für Wohlbefinden auf allen Ebenen.
Jeder Teilnehmer/in erhält vor Kursbeginn ein Päckchen mit ätherischen Ölen, die während der Yogapraxis eingesetzt werden. Anmeldung möglich bis spätestens Sonntag, 12.03.2021, damit die Öle rechtzeitig bei dir ankommen.
Alle angemeldeten Teilnehmer/innen erhalten nach jeder Klasse per E-Mail den Link zur Aufzeichnung, welcher jeweils für eine Woche abrufbar sein wird.
Online stream
There is an online stream available for this activity. To participate, take the following steps:
This studio uses Zoom as their online streaming provider. Download the according app to your laptop, tablet or smartphone
Access to the online livestream is available 15 minutes before the start of the activity. Simply go to "My bookings" and click on "Join online stream now" to be redirected to the corresponding page
With some streaming providers (e.g. Zoom) it is possible for participants to see each other. However, it is theoretically possible to deactivate the camera function. The name you enter when entering the online meeting room is displayed to other participants. However, you can always change your name (e.g. only the initials). Please note: Individual rules for online participation may apply for each class or venue.
Trainer :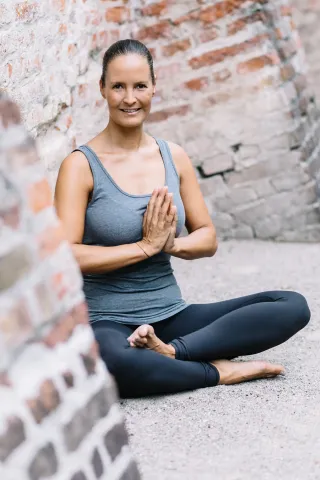 Geraldine Kuprian
Geraldines Yogaweg begann 2009 mit einem Jivamukti Beginners Workshop. Dieser machte sie sofort neugierig auf mehr und so probierte sie verschiedene Yoga-Stile aus, bis sie 2011 schließlich zum WOYO-Club kam. Sie merkte schnell, dass diese Art Yoga zu üben die richtige für sie ist. An der WOYO-Akademie München absolvierte sie dann auch ihre Yogalehrerausbildung. Seitdem unterrichtet sie kleine Gruppen und gibt Einzeltrainings. Geraldine hat es sich zur Aufgabe gemacht, mit der WOYO-Methode Menschen mit den unterschiedlichsten Voraussetzungen für Yoga zu begeistern. In ihrem Unterricht ist es ihr wichtig, auf die individuellen Bedürfnisse ihrer Schüler einzugehen und sie behutsam an die klassischen Asanas heranzuführen. Um optimalen Unterricht gewährliesten zu können, vertieft sie ihre eigene Yoga Praxis ständig und bildet sich regelmäßig fort. In Yoga sieht Geraldine den perfekten Weg, Gesundheit mit Lebensfreude zu verbinden, Körper und Geist in optimale Balance zu bringen.
Dates:
| | | | | |
| --- | --- | --- | --- | --- |
| 1. | 16/03/2021 | 18:00 - 19:15 | Sonnenstraße 29, 85356 Freising | Geraldine Kuprian |
| 2. | 23/03/2021 | 18:00 - 19:15 | Sonnenstraße 29, 85356 Freising | Geraldine Kuprian |
| 3. | 30/03/2021 | 18:00 - 19:15 | Sonnenstraße 29, 85356 Freising | Geraldine Kuprian |
| 4. | 06/04/2021 | 18:00 - 19:15 | Sonnenstraße 29, 85356 Freising | Geraldine Kuprian |
* All prices including VAT