Online 108 Sonnengrüße (Surya Namaskar) kurz vor Sommersonnenwende
Online stream
Starts on Saturday, 19/06/2021
Price 16.00 €
Description:
Wie ein Gebet an das Licht, das in uns leuchtet. Wie ein Gebet an die Sonne, das Feuer, die Wärme! Mit 108 Sonnengrüssen begehen wir die Sommersonnenwende, den längsten/hellsten Tag im Jahr und begrüßen einen Neubeginn. Nach der kürzesten Nacht des Jahres werden die Tage schon wieder kürzer. Durch die intensive Praxis wird der Geist ruhiger. Viele Wiederholungen ergeben eine Form der Meditation in Bewegung. Fließende Bewegungen in Harmonie mit Deiner Atmung lassen Dich tiefer mit Deiner wahren Natur in Verbindung treten. Erfahre mehr über die 108 als heilige Zahl, die Kraft der Surya Namaskar und erlebe mit Isabel diese ganz besondere Energie, die dadurch entsteht! Lass Dich auf dieses Erlebnis ein und erfahre die Magie des Rituals!
Online stream
There is an online stream available for this activity. To participate, take the following steps:
This studio uses Zoom as their online streaming provider. Download the according app to your laptop, tablet or smartphone
Access to the online livestream is available 15 minutes before the start of the activity. Simply go to "My bookings" and click on "Join online stream now" to be redirected to the corresponding page
With some streaming providers (e.g. Zoom) it is possible for participants to see each other. However, it is theoretically possible to deactivate the camera function. The name you enter when entering the online meeting room is displayed to other participants. However, you can always change your name (e.g. only the initials). Please note: Individual rules for online participation may apply for each class or venue.
Teacher :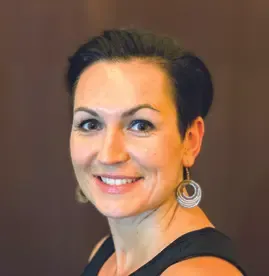 Isabel Christen
Pure Lebensfreude spüren. Im Hier und Jetzt ankommen...seit mehr als 6 Jahren ist das die Motivation für meine intensiv gelebte Yoga Praxis. Mein Name ist Isabel und Yoga, das ist für mich seit Beginn eine Form der Freude und der Weg zu einer innigen Verbundenheit mit der Natur, meinen Mitmenschen und mit mir selbst. Ein wichtiger Gegenpol zum oft hektischen und unbewusst gelebten Alltag mit der 5-köpfigen Familie, Beruf und meinem 2. Hobby - der Musik. ​ Entschleunigung, Achtsamkeit und Wertschätzung für mich und meine Mitmenschen, das habe ich durch Yoga gelernt, und nun fließend in mein Leben integriert. Dass Yoga sehr viel auf positive Weise verändern kann, das habe ich in den Jahren gelernt, erlebt und verinnerlicht. Das möchte ich Dir gerne weitergeben, mit Dir teilen um mich gemeinsam mit meinen yogabegegeisterten Schülern weiterzuentwickeln. ​ Der Grundstein dazu wurde durch die Ausbildung zur Prana Flow Lehrerin (200h Yoga Alliance), die ich in 2018 bei Christine May in München absolvierte, gelegt. Der Beginn einer wunderbaren, intensiven Reise in die Tiefen der Yogawelt auf allen Ebenen. Die fließende Verbindung der Asanas mit dem Atem macht den eigenen natürlichen Rhythmus spürbarer, eine Meditation in Bewegung entsteht, die selbst in absoluter Stille alles fließen lässt.
Dates:
| | | | | |
| --- | --- | --- | --- | --- |
| 1. | 19/06/2021 | 17:00 - 18:30 | Sonnenstraße 29, 85356 Freising | Isabel Christen |
* All prices including VAT