Movement Mobility
Starts on Sunday, 09/22/2019
Price from 29.00 €
Description:
Budokon Mobility: Learn how to construct, deconstruct, progress and regress quadrupedal movement patterns. In the workshop, Henry will guide you through a creative sequence of different movements, based on yoga, martial arts, animal locomotion, dance and free-form movement. A big focus of this movement training is the mobility of your joints. This mobility enables you to prevent injuries and enable you to continue with your movement practice for decades. The techniques are learned through repetition and precision, the emphasis being on smoothening your movement, learning new ways to move and perfecting existing movement patterns.
Workshops with Henry The Newman Sunday, 22.09.2019: 14.00 - 16.00 Uhr: Budokon Yoga 16.30 - 18.30 Uhr: Budokon Movement Mobility Tickets: 1 Workshop € 29, Combiticket BDK Yoga & Movement Mobility € 49
Sunday, 27.10.2019: 14.00 - 16.00 Uhr: Budokon Yoga 16.30 - 18.30 Uhr: Budokon Animal Locomotion Tickets: 1 Workshop € 29, Combiticket BDK Yoga & Animal Locomotion € 49
Teacher :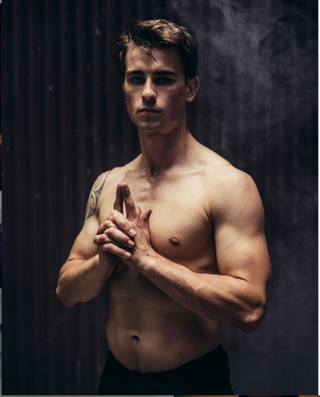 Henry The Newman
Henry Neumann has a background of several years of determined Crossfit & Strength training, as well as teaching others as a CF-L1 and CF Gymnastics trainer. He constantly seeks inspiration and teaching from other fields, such as Yoga, Gymnastics, Martial Arts, Sport Science, Psychology & more. Henry has trained and learnt directly from the acknowledged father of Mixed Movement Arts and Budokon founder Cameron Shayne both in Europe and in the US. With Budokon, Henry found a holistic concept to combine all of his research and share his knowledge through Mixed Movement Arts.
Dates:
| | | | | |
| --- | --- | --- | --- | --- |
| 1. | 09/22/2019 | 16:30 - 18:30 | Kuttlerstraße 21, 91054 Erlangen | Henry The Newman |
Cancelations
All registrations are final and non-refundable. The spot is secured through payment of the entire fee. Due to the advanced notice required in arranging courses and workshops, changes are only possible if requested 2 weeks prior to the commencement of the workshop. Workshop spots can be transferred to another Candidate if you cannot participate. In the event that a course or workshop is cancelled, registered students are eligible for a refund or may select an alternative and equally priced course or workshop option.
* All prices including VAT