TEEN POWER
Starts on Thursday, 19/09/2019
Price 100.00 €
Description:
THIS IS ABOUT WHO WE ARE AND WHAT WE DO. IT'S ABOUT SELF-ESTEEM, STRENGTH AND COURAGE.
THROUGH YOGA YOU WILL GET TO KNOW YOURSELF BETTER AND HAVE THE POWER TO DO THINGS DIFFERENTLY. IT GIVES YOU THE CONFIDENCE TO BE YOURSELF IN EVERYDAY LIFE.
LEARN STRENGTHENING MOVEMENT AND BREATHING TECHNIQUE TO FOCUS AND RELAX. WE WILL ALSO WORK ON A MINI PROJECT TO LET OUR CREATIVITY GO WILD.
Starting 19. Sep 2019 Thursdays 4:15-5:15pm 10 session a 60min - pre-registration required No class on Oct 3rd and during Bavarian School Holiday (Oct 31st)
Teacher :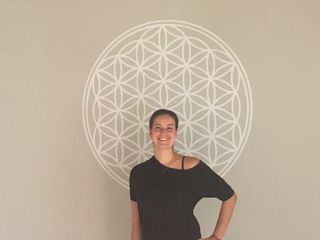 Maxi
For me Yoga means rediscovering the natural rhythm of live and reconnecting to your inner teacher and the flow of live. My classes are fluid and reach from powerful to introspective & meditative, but are also fun. Aligned with the power of nature we will experience not only stronger solar flows but also the quiet lunar side of yoga. We focus on bringing awareness to the natural rhythm of our breath and body. I encourage my students to always listen to their individual energy level on each day and provide different Kramas (levels) for each Asana. This gives students of all levels the possibility to develop and grow in their own Yoga practice.
Dates:
| | | | | |
| --- | --- | --- | --- | --- |
| 1. | 19/09/2019 | 16:15 - 17:15 | Kuttlerstraße 21, 91054 Erlangen | Maxi |
| 2. | 26/09/2019 | 16:15 - 17:15 | Kuttlerstraße 21, 91054 Erlangen | Maxi |
| 3. | 10/10/2019 | 16:15 - 17:15 | Kuttlerstraße 21, 91054 Erlangen | Maxi |
| 4. | 17/10/2019 | 16:15 - 17:15 | Kuttlerstraße 21, 91054 Erlangen | Maxi |
| 5. | 24/10/2019 | 16:15 - 17:15 | Kuttlerstraße 21, 91054 Erlangen | Maxi |
| 6. | 07/11/2019 | 16:15 - 17:15 | Kuttlerstraße 21, 91054 Erlangen | Maxi |
| 7. | 14/11/2019 | 16:15 - 17:15 | Kuttlerstraße 21, 91054 Erlangen | Maxi |
| 8. | 21/11/2019 | 16:15 - 17:15 | Kuttlerstraße 21, 91054 Erlangen | Maxi |
| 9. | 28/11/2019 | 16:15 - 17:15 | Kuttlerstraße 21, 91054 Erlangen | Maxi |
| 10. | 05/12/2019 | 16:15 - 17:15 | Kuttlerstraße 21, 91054 Erlangen | Maxi |
* All prices including VAT